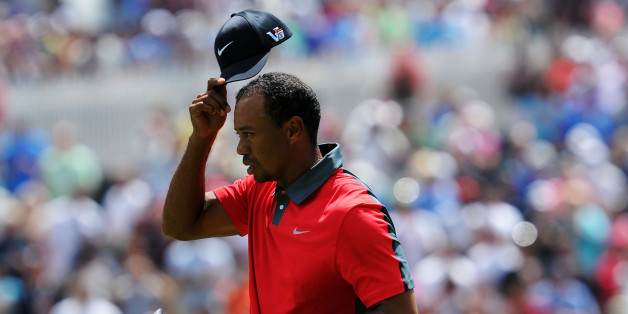 By Frank Pingue
ROCHESTER, New York, Aug 11 (Reuters) - There was a period in his career when it seemed only a matter of time before Tiger Woods would accomplish his lifetime goal of winning a record 19 major championships.
But after concluding the PGA Championship well back of the leaders on Sunday, the 14-times major winner ensured his drought at golf's elite events will spill into a once-unthinkable sixth year.
"Didn't seem to hit it as good and didn't make many putts until the last few holes today," said Woods, whose even-par 70 left him at four-over for the tournament.
"But I didn't give myself many looks and certainly didn't hit the ball good enough to be in it."
Critics will point to Woods's barren run at the majors since his U.S. Open triumph in 2008 as a sign that his best golf is behind him, but the world number one has nine top-10 finishes in the 18 majors he has competed in since then.
That includes a tie for fourth at the Masters in April and a share of sixth place at last month's British Open, results that convince Woods he has no reason to panic about his form in the top events.
"Is it concerning? No. As I've said, I've been there in half of them. So that's about right," Woods said.
"If you are going to be in there three-quarters or half of them with a chance to win on the back nine, you have just got to get it done."
Woods got it done in brilliant fashion at last week's WGC-Bridgestone Invitational, romping to a seven-shot victory that made him an overwhelming favourite at Oak Hill, site of the year's final major.
But surprisingly, Woods was essentially out of contention by the midway point of the PGA Championship, where he failed to break par in any of four rounds.
In fact, Woods was so far down the leaderbaord after three rounds that he signed off on Sunday nearly an hour before the leaders even teed off.
Outside of golf's four majors, it has been yet another great year for the 37-year-old world number one, who is the only player with five PGA Tour wins this season.
When Woods arrives at Augusta in April for the next major tournament on the schedule, he will be 38. The only player to win five majors after turning 38 is Ben Hogan.
For Woods, being out of contention at a major is a tougher pill to swallow than falling just short down the stretch.
"It's more frustrating not being in it. Having a chance on the back nine on Sunday, I can live with that," said Woods, who was three-over for the day after nine holes on Sunday before a trio of back-nine birdies brought him back to even par.
"It's always frustrating going out there, and I'm three-over today ... and I'm grinding my tail off coming in just to shoot even par for the day. And I'm nowhere in it. That's tough.
"I'd much rather have it like at Augusta or at the British when I have a chance."
BEFORE YOU GO
PHOTO GALLERY
2013 PGA Championship Final Round