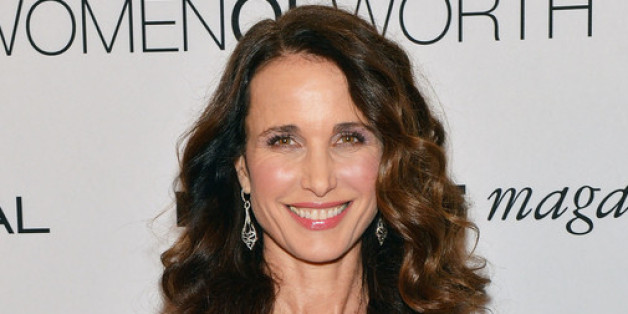 Andie MacDowell may be best known for her roles in iconic movies like "Groundhog Day," and her starring role in the new Hallmark series "Debbie Macomber's Cedar Cove," but the model and actress has another talent: knowing when women are going through difficult times.
MacDowell, who has been divorced twice and has three adult children, spoke with The Washington Post about the pain of divorce, and how it can visibly affect women.
"It's a huge part in the life of many women I know. I can usually tell when a woman is going through a divorce because they look so gaunt and tired and sad," she said. "It's just a huge sadness. It's horrible. It's like death. You mourn, but the person's still there."
MacDowell was married to former model Paul Qualley, the father of her kids, for 13 years before divorcing in 1999, and was later married to hometown friend Rhett Hartzog for three years before their 2004 divorce. MacDowell told The Washington Post that ending a marriage is not something she would wish on anyone.
"Divorce is horrible. I wouldn't wish that on my worst enemy," she said. "I don't think it's anything that's ever completely resolved."
And although MacDowell would like to fall in love again and find a life partner, she said she doesn't think a third legal marriage is in the cards for her.
"For me, it's sad to say, but I would probably have a spiritual marriage but not a legal marriage, because I think so much about marriage starts to become about finances. It has nothing to do with God or feelings or the romantic side of marriage. It's about who owns what, who gets what? So what's the point?"
MacDowell has spoken about her life post-divorce before, and opened up to The Culture Mom in 2011 about what it was like raising children while still working.
"Having the option to be able to have a career and feel good about yourself as an individual and still be a great mother is definitely a possibility. It takes teamwork," she said. "My kids learned to be independent. We had rules and regulations, and everybody had to work together.
Click through the slideshow below for more celebrity single moms we love.
PHOTO GALLERY
Our Favorite Celebrity Single Moms
Keep in touch! Check out HuffPost Divorce on Facebook and Twitter.