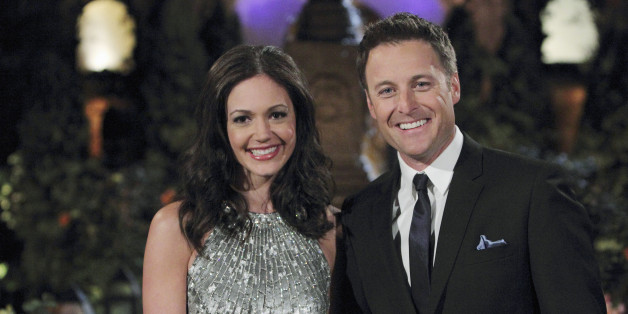 It's a familiar scene. Chris Harrison walks solemnly out from behind the satin curtain, as music akin to the "Pirates of the Caribbean" soundtrack pulses to a crescendo. "This is the final rose tonight," Harrison announces. He stays strong, though his heart is heavy with the pain he knows is soon to follow.
"The Bachelor," and later "The Bachelorette," have always been about finding love, living happily ever after and loving the fairy tale. That final rose ceremony holds so many possibilities, paradoxically coupled with even more disappointment, as our hero or heroin selects the person they will spend the rest of their life a few weeks with, and another suitor is sent home.
Yeah, it turns out "Bachelor" and "Bachelorette" matches don't really last very long. Although most get engaged, only a small fraction make it down the aisle, and even fewer stay together for more than a couple of months. Maybe it's the realization that life as a couple is more about taking turns with the garbage and less about helicopter rides over Thailand. Perhaps it's the sad disillusionment that looking for love over the course of gratuitous hot tub scenes is often more steamy than actually finding it.
Anyway, we took a look at the 26 combined seasons of "The Bachelor" and "The Bachelorette," and here's what we found:
"The Bachelorette" almost always ends in a proposal.
That 11 percent is Jennifer Schefft, the bachelorette who bravely chose ... no one.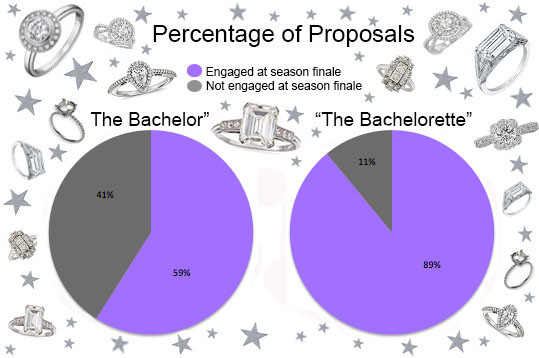 Almost none of the couples stay together.
We'll give Desiree Hartstock and Chris Siegfried a place on this bar graph, if they're still together come September (read: never).

And they don't make it work for very long.
"Shortly after" ranges from "while the show was airing" to "days later."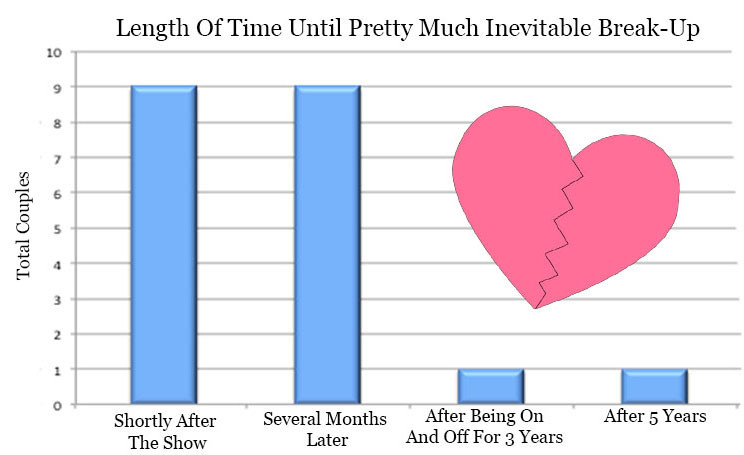 In Conclusion:
Love is dead.
Overall, only 15 percent of couples are still able to tolerate each other. And that includes Desiree and her silver medal Chris Siegfried, who, let's face it, are almost certainly doomed for failure. Some questions come to mind. Could it be that all 26 seasons were worth it, if all they did was form a love like the famously successful Trista and Ryan Sutter? Are Harrison's valiant efforts justified, even if they only bring a few people together, who might not have otherwise met? And, finally, why are we still watching this show?
BEFORE YOU GO
PHOTO GALLERY
Former Bachelor/Bachelorettes