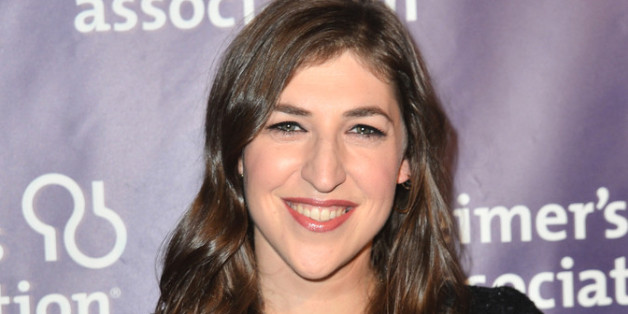 "The Big Bang Theory" keeps getting bigger, and while it's impossible to identify the precise chemical formula that makes the CBS hit so addictive, the comedy's cast is undoubtedly a huge factor.
So what does an Emmy-nominated actress on one of TV's biggest comedies do to prepare herself for the role? If she's Mayim Bialik, she's got a very specific, very unusual pre-filming routine.
"On tape night, I have onion rings and half a Coca-Cola, and I study with a friend," Bialik told The Hollywood Reporter. "We study Jewish philosophy -- that's my pre-Tuesday ritual during dinner break. It puts some perspective on what we're doing, and it takes my mind off the Coke and onion rings."
It might sound random, but it's obviously working -- this season Bialik was nominated for her second consecutive Supporting Actress in a Comedy Emmy for playing Dr. Amy Farrah Fowler, alongside nods for co-star Jim Parsons in the Lead Actor in a Comedy category, Bob Newhart for Guest Actor in a Comedy, and an Outstanding Comedy nod for "The Big Bang Theory" itself.
When Bialik heard she was nominated for a second year, she was apparently surprised by the news: "I am as shocked as if you told me that ["Big Bang" co-creator] Chuck Lorre had been nominated for a Best Supporting Actress in a Comedy Emmy," Bialik wrote in a blog post for Jewish parenting website Kveller.com. "Why am I so shocked? I don't know; I'll ask my therapist. I just am! I was certain I would not be nominated."
Season 7 of "The Big Bang Theory" promises to continue the momentum of the past season, with the characters strengthening their relationships in unexpected ways and Raj (Kunal Nayyar) finally being able to talk to women without the aid of alcohol. Fans can also look forward to an hour-long premiere scheduled for Tuesday, Sept. 26 at 8 p.m. ET.
For more on how Emmy-nominated actresses like Bialik prepare for their roles, click over to The Hollywood Reporter.
PHOTO GALLERY
Emmy Nominations 2013