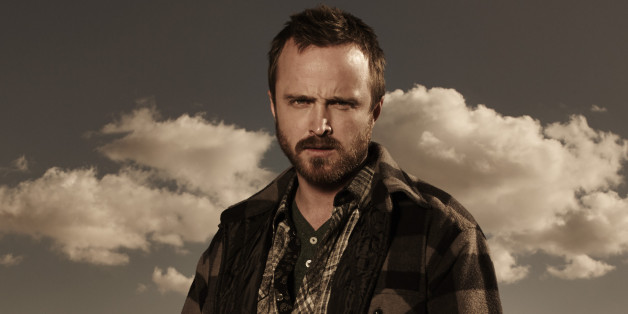 Tread lightly, "Breaking Bad" fans. The end is near, and while that reality is causing a bit of mourning for diehard fans, it's also cause for some celebration of the amazing AMC drama that is poised to (hopefully) stick the landing after five intense seasons.
On Sunday, The Huffington Post celebrated the Season 5, Part 2 premiere of "Breaking Bad" with star Aaron Paul at a private party sponsored by Bushmills Irish Whiskey to taste their whiskey lineup, screen the episode and announce their new partnership with Paul and some of his best friends for their Since Way Back campaign (previous Since Way Back participants include Elijah Wood, Bon Iver and Chromeo).
Paul and his friends have been pals since long before he landed his career-making, Emmy award-winning role on "Breaking Bad" (Sundays at 9 p.m. ET on AMC), and Bushmills is celebrating that by giving the guys a platform to share fun content all year long that will reveal another side of Paul to his fans.
"I love these guys so much, and that's what's so cool about this partnership. When they asked me to get involved ... they said, 'Well, we don't want to just do a campaign with you -- we want to do it with your best friends, and we really want to know why these guys are your best friends.' And I thought that is the coolest idea ever for a campaign, so I jumped at the opportunity."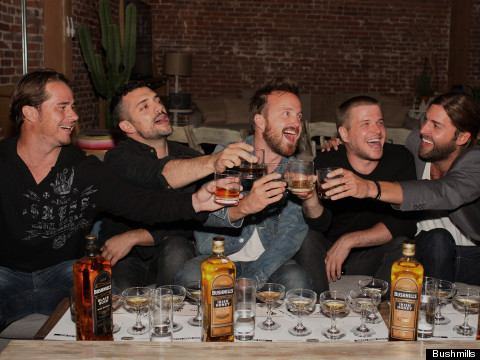 From left: Philip Waller, Chris Paul Scardamalia, Aaron Paul, Dave Tom and Taylor Russell.
"I think one of the reasons why they came to me is I sent out a tweet when I was heading to the airport from set in Albuquerque to come back to LA, and I made a joke about hoping the bartender at the airport had my Bushmills ready for me -- and that was before all of this. I'm like, 'Twitter, thank you! I love you!'"
After talking with Paul and his buddies about their decade-plus-long friendships -- they were all in his wedding, alongside his "Breaking Bad" co-star Bryan Cranston, and talked about how cool it was that "Breaking Bad" alum Jonathan Banks (Mike Ehrmantraut) did a reading -- the conversation with Paul turned to his onscreen friend-turned-worst-nightmare, Walter White, and the "brutal" end of "Breaking Bad."
That first episode back was insane, but obviously it leaves some big questions to be answered. How soon does Jesse find out that Walt has been found out?
I will say, in true "Breaking Bad" fashion, each season gets progressively darker and more intense. The stakes are obviously much higher. The [Season 5, Part 2] premiere episode ... I mean, it's like a violent punch to the throat, instantly. And so, you know where it starts, and it's just a violent sprint to the finish line. There's no slowing down. There's no episode that's kind of like a buffer episode -- there's no breather. It's just a violent sprint to the finish line, which is very exciting, I think, for everyone involved.
Personally, I've loved the evolution of Jesse's relationship with Walt, but I really enjoyed that dinner scene he had with Walt and Skyler at their house. Just to see the dysfunction happening in Walt's life through a new lens. It's a dynamic the show didn't explore too much -- any chance we'll get a bit more in these last episodes?
In the first season, there was a scene in the second episode between Skyler and Jesse when he was pulling out the dead body from the RV -- which was one of my favorite scenes of the entire series, just because it was just so awkward, obviously, but so humorous. But yeah, I was very excited that they re-explored that sort of comedic element. They might cross paths again ... maybe many more times. Who knows?
Picking back up with Walt's flash-forward was so perfectly jarring, but it hammers home the fact that ["Breaking Bad" creator] Vince Gilligan wants this story to have a true ending. Did it feel like it came full circle for you after filming the series finale?
Yeah, I was very satisfied with how it ended. I didn't want the show to end this season. I thought we could've gone at least one, possibly two more seasons. But after reading the final eight episodes and really knowing where the writers were heading and how they wanted to kind of tie this all up, I couldn't be happier with the way it all went down. I'm so glad that they decided not to stretch the show out longer than they did. I mean, I still think they could've maybe added a few episodes here and there ... [laughs] -- just because I loved working on it. It was such a family. It was just so crazy. When we started shooting the first eight [episodes of Season 5], that was the first time that we saw an actual finish line, which was just such a devastating thing to see in the future. Each episode we filmed, the closer we got to that finish line, and the sadder it was. It was really rough ... still, it's the longest goodbye in television history, but it's been rough.
For Jesse, he's had so much darkness already, but this ... we've never seen him like we saw him in this week's episode.
It's so sad. He's just been through so much, Jesse Pinkman -- and I care for him deeply.
But so many people do!
So many people do! They want to protect him -- even though he is really a bad guy. He's a terrible guy! He's a drug dealer, he's a murderer ... but he has a heart that you love, and you want to protect that heart. And I can't talk about what happens, but it's so ... just brutal. There's so many ups and downs that I can't discuss, but you know, you saw the first episode -- he's in such a sad place. He's given up and he doesn't have anyone. And the person that he was really kind of holding onto, the person that he wanted to give him guidance, the person that he wanted to kind of call his fatherly figure, he now knows that he is a horrible human being.
And he still doesn't know the half of it.
Exactly. And will he ever find out? I don't know. I used to think I wanted him to know all of the stuff, but I don't know if I do. He's pretty much already an empty shell -- what good would it do to pull back the curtain and reveal all the madness?
Vince always describes Walt's transformation as Mr. Chips becoming Scarface. How would you describe Jesse's evolution?
That's such a hard question to answer. I don't know. A lost kid struggling to find his way to ... a kid that's even more lost than he could ever imagine. He's still just desperately searching for guidance and I don't know if he'll ever find it.
On a lighter note, what did you steal from the set? I know you probably had a few things you wanted.
I did. Vince Gilligan -- well, I still have not received it yet, so I tell everyone who'll listen -- he's giving me the actual pink teddy bear, the one that was onscreen. He has it. It's still, he said, kind of wet in his garage, so it's probably disgusting, but I want it so bad. I tried to take the RV, but they wouldn't let me have it. And then I did try to take the RV door ... but I got Jesse's license plate. I got a couple of gas masks. I got a Heisenberg hat. I tried to take as much shit as possible! [Laughs.]
"Breaking Bad" airs Sundays at 9 p.m. ET on AMC. Check out Aaron Paul's Bushmills Since Way Back campaign here.
PHOTO GALLERY
'Breaking Bad' Final Episodes Images
BEFORE YOU GO