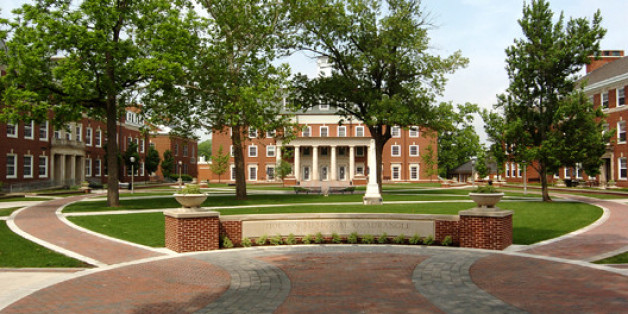 DePauw University didn't even make the top 10 biggest party schools as ranked by the Princeton Review, but that didn't stop administrators at the private Greencastle, Ind. university from freaking out.
The rankings, released on Aug. 5 and based on surveys from more than 122,000 students, placed DePauw as the 13th biggest party school.
DePauw spokesman Ken Owen called the ranking "absurd and disappointing," and attacked the Princeton Review's credibility.
"How in the world do some of the best parties in the U.S. take place in Greencastle, Indiana?" Owen said to the Indianapolis Star, adding, "It would be laughable if it wasn't so sad."
But school officials didn't stop there.
Two DePauw administrators -- Cindy Babington, vice president for student life and dean of students, and Steve Setchell, associate vice president for alumni engagement -- fired off an email to express their disgust with the Princeton Review's ranking. A concerned alumna shared a copy of the letter with The Huffington Post.
"This for-profit corporation -- a media corporation with no connection to Princeton University -- has ranked our University among the nation's top 20 'party schools,'" Babington and Setchell wrote to the alumni. "We firmly believe this designation not only to be wholly specious, but also -- and perhaps more importantly -- a disservice to our students, alumni, and faculty."
Alumni laughed about the letter on Twitter:
Usually, it's the college named the No. 1 party school that is frowning on the rankings, or perhaps the school in the No. 8 slot. But not a university that's outside of the top 10 altogether. Not to mention DePauw fell from 12th in 2012, and from No. 10 in 2010.
"We thought it was important that you understand our perspective on these rankings and the approach of the organization that publishes them," Babington and Setchell said in their letter.
It ends with a call for help from the alumni to "ensure that the world understands the true DePauw we know," presumably, to show the administration's view that they are in no way a party school.
Read the entire email below:
Dear DePauw University Alumni,

We write to you today to respond to news that you may have seen in the last 24 hours regarding college rankings from the Princeton Review. This for-profit corporation—a media corporation with no connection to Princeton University—has ranked our University among the nation's top 20 "party schools." We firmly believe this designation not only to be wholly specious, but also—and perhaps more importantly—a disservice to our students, alumni, and faculty. These rankings, while generating a significant amount of short-term attention, must be taken in context. (We say this even in the face of more positive recent public rankings news, such as Forbes' recent ranking of DePauw among the top 100 leading colleges and universities in the nation.)

The Princeton Review does not offer a public explanation of how they develop their rankings, though they state they base these rankings on student surveys. It is not clear when, or if, they have surveyed our students in the last four years, but it is clear that Princeton Review's description of DePauw (including quotations attributed to those said to be surveyed) has—quite literally—remained unchanged over this same period. These rankings shape perceptions about DePauw, and we must take them seriously. To this end, we have gone to great lengths to try to share current and accurate information with the Princeton Review. We cannot help but wonder, however, whether the Princeton Review is honestly interested in understanding the true nature of our students and our campus.

The DePauw we know is a place where students are thoughtful, engaged, and committed to serving and supporting campus life. Academic challenge is a part of their daily experience. When it comes to campus life, they are involved and outgoing, as—for generations—DePauw students have been. They are varsity athletes, leaders in our Greek chapters, running more than 100 clubs and organizations and serving the Greencastle community through dozens of service opportunities. Our students go on to attend the nations' leading graduate and professional schools, take leading positions in a wide variety of enterprises, and become engaged and effective leaders of their communities. They do so, we believe, in no small part because of the education they received at DePauw and the broad and challenging experiences they had on this campus.

Interestingly, we agree (rather strongly) with the general description the Princeton Review has, for the last several years, offered about DePauw:

Serious-minded students are drawn to DePauw University for its "small classes,"
"encouraging" professors, and the "individual academic attention" they can 
expect to receive. Academically, DePauw is "demanding but rewarding," and
"requires a lot of outside studying and discipline" in order to keep up.
 Professors' "expectations are very high," which means "you can't slack off and
 get good grades." Be prepared to pull your "fair share of all-nighters."
 Fortunately, DePauw professors are more than just stern taskmasters. Though 
they pile on the work, they "are always helpful and available" to students in 
need. When things get overwhelming, "They are very understanding and will
 cut you a break if you really deserve" it. As a result, students come to know 
their professors "on a personal level," making DePauw the kind of school
 where it is "common [for students] to have dinner at a professor's house."
Beyond stellar professors, DePauw's other academic draws include "extraordi
nary" study abroad opportunities and a "wonderful" alumni network great for
"connections and networking opportunities."


We will be the first to acknowledge that high-risk drinking is a challenge facing college campuses across this country, including ours. This is why we are proud to have joined leading institutions—such as Dartmouth College, Duke University, and Stanford University—as a member of a collaborative designed to bring a public health approach to this issue.

We thought it was important that you understand our perspective on these rankings and the approach of the organization that publishes them. And we invite you to share our thoughts with anyone who wishes to discuss these rankings or who asks about DePauw. Together, we can ensure that the world understands the true DePauw we know and about which we are deeply and rightfully proud.

We welcome your thoughts and concerns. If you have any questions or comments about any of this, please contact our offices.

Most sincerely,
Cindy Babington,
Vice President for Student Life and Dean of Students

Steve Setchell,
Associate Vice President for Alumni Engagement
BEFORE YOU GO
PHOTO GALLERY
The Top Party Schools 2014: Princeton Review