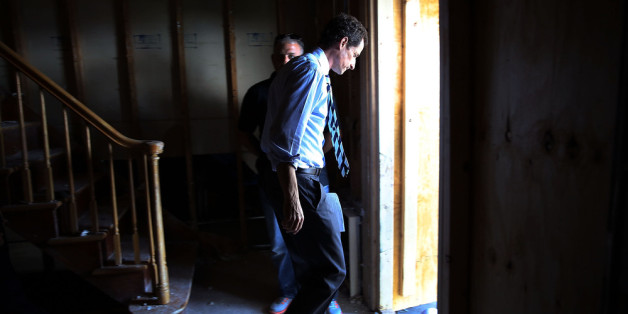 Virtually every poll shows Cory Booker leading in New Jersey (but you knew that already). Anthony Weiner's negatives are soaring. And when Quinnipiac's student interviewers learn how much a candidate thinks their work is worth, they're going to want a raise. This is HuffPollster for Monday, August 12, 2013.
NEW YORKERS EMBARRASSED BY SCANDAL-PLAGUED CANDIDATES - Siena College: "More than two-thirds of voters think the national attention being shined on New York by the political comeback attempts of New York City Comptroller candidate and former Governor Eliot Spitzer and New York City mayoral candidate and former Congressman Anthony Weiner is embarrassing, according to a new Siena College Poll of New York voters released today.... 'While Spitzer's unfavorable rating is down from the 79 percent who viewed him unfavorably in the aftermath of his resignation, Weiner has set a new all-time Siena College Poll record with 80 percent of voters viewing him unfavorably – including three-quarters of Democrats and New York City voters – compared to only 11 percent who have a favorable view of America's most infamous tweeter,' [pollster Steven] Greenberg said." [Siena]
NYC MAYORAL CANDIDATE ERICK SALGADO SUES QUINNIPIAC - Colin Campbell: "Erick Salgado, a long-shot Democratic candidate for mayor, is furious that Quinnipiac University has consistently left his name out of their polls. He's so furious, in fact, that his campaign filed a lawsuit today in Manhattan Supreme Court seeking to prohibit the firm from 'conducting and/or releasing any voter preference poll for the New York City Democratic mayoral primary which does not include all candidates qualified to participate … in the first primary election debate,' according to a press release sent out this afternoon by his campaign. The suit further asks for 'no less' than $1.5 million in damages." [Politicker]
ONE LAST TIME: BOOKER LEADS PRIMARY RACE - New Jersey will hold a special primary election for U.S. Senate on Tuesday, the first of three elections to be held in the Garden State between now and November. And if the poll measurements are anywhere close to correct, Newark Mayor Cory Booker will likely prevail by a wide margin over Democratic Reps. Frank Pallone and Rush Holt and State Assembly Speaker Sheila Oliver. In all, seven media polls since May have asked about Democratic primary preferences, and although sample sizes are small and the likely electorate difficult to predict, all seven polls showed Booker leading by huge margins. Six of the seven show him with more than 50 percent of the vote. The HuffPollster chart, which includes a new Quinnipiac University poll released just last week, combines all of the poll results, giving Booker 52 percent of the vote compared to 17 percent for Pallone, 15 percent for Holt and 5 percent for Oliver. [Pollster chart, Quinnipiac]
Pallone and Holt rising - While Booker's numbers in these surveys have largely held over the summer, support for his two closest opponents has increased as less attentive voters have focused on the race. In the most recent Quinnipiac poll, for example, the undecided percentage plunged (from 27 percent in July to 8 percent in August) while support for Pallone jumped seven points (from 10 to 17 percent) and Holt's vote nearly doubled (from 8 to 15 percent). Nevertheless, with three opponents and his own total just over 50 percent, Booker appears poised to win by a comfortable margin.
Primary polling uncertainty - That said, horse race polling errors are more likely in primary elections, with hastily scheduled special elections often even more problematic. The reasons are that turnouts are lower and harder to predict, and multi-candidate primaries can produce big late shifts in support, particularly in the absence of party identification that roots voters to candidates in a general election. So it is possible that the New Jersey Democratic primary may be closer than it appears, though a Booker win is highly likely.
AMERICANS DIVIDED OVER CANCELLATION OF RUSSIA MEETING - Emily Swanson: "Most Americans consider Russia to be unfriendly to the U.S., but are divided over the merits of President Barack Obama's decision to cancel a September meeting with Russian President Vladimir Putin, according to a new HuffPost/YouGov poll. Forty-three percent of respondents said they approve and 37 percent said they disapprove of Obama's decision to cancel the one-on-one meetings after Russia granted temporary political asylum to National Security Agency leaker Edward Snowden. Another 21 percent said they weren't sure. [HuffPost]
HUFFPOLLSTER VIA EMAIL! - You can receive this daily update every weekday via email! Just enter your email address in the box on the upper right corner of this page, and click "sign up." That's all there is to it (and you can unsubscribe anytime).
MONDAY'S 'OUTLIERS' - Links to more news at the intersection of polling, politics and political data:
-A majority of Americans back higher insurance rates for smokers. [Gallup]
-Two Republican-sponsored polls give Tom Cotton a lead in Arkansas. [Politico]
-Half of North Carolina voters oppose the state's new voter ID law, though most support the idea itself. [PPP]
-A survey from Republican Harper Polling finds a rematch of Rep. John Tierney (D-Mass.) against rival Richard Tisei would be close. [Roll Call]
-Sean Trende explains why he still likes the odds for Mitch McConnell to retain his Senate seat. [RCP]
-Nate Cohn charts eight reasons 'Blue Texas' is unlikely. [New Republic]
-Harry Enten doubts racism explains Obama's approval slide. [Guardian]
-Seniors are shifting away from the GOP, says Democratic pollster Stan Greenberg. [The Atlantic]
-Dan Hopkins reviews an experiment showing how a canvass to persuade likely voters backfired. [WaPost]
-Former Census Director Ken Prewitt recommends taking the race question off the decennial census. [AndrewGelman.com]
-Carl Bialik reports on the backlash the typically results from efforts to rank the unrankable. [WSJ]
-A professor predicts that "digital democracy" will put pollsters out of work. [WaPost]
-Natalie Jackson argues that academic survey researchers and public pollsters aren't so different. [Marist]
-The blog Statistical Research offers a plea for data scientists and statisticians to get along. [Statistical Research]
-A demographer plots a one-dot-person race and ethnicity national thematic map. [Cooper Center via Flowing Data]
-Scott Rasmussen drops the (Twitter) mic. [@RasmussenPolls]