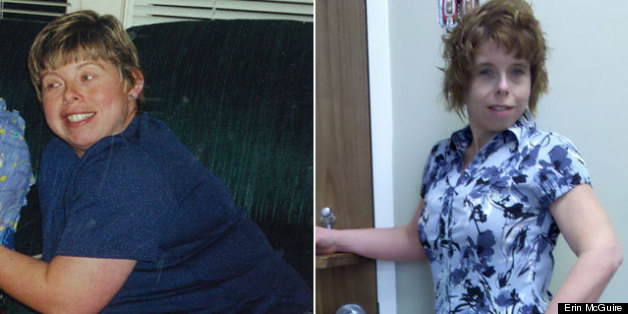 Got a success story of your own? Send it to us at success.stories@huffingtonpost.com and you could be featured on the site!
Name: Erin McGuire
Age: 44
Height: 5'4"
Before Weight: 252 pounds
How I Gained It: It was easy to get fat -- all I had to do was to eat out all the time. For breakfast, I would frequent Dunkin' Donuts or McDonald's for an egg sandwich with meat and cheese. I would go to lunch at Wendy's or McDonald's. I thought I was eating healthier, because I was eating a salad with croutons, cheese, a lot of dressing and a Diet Coke. I would end the day with a fancier restaurant like Outback Steakhouse, Olive Garden or The 99. I had no idea that these food choices were also bad for me. I didn't know about counting calories or how much I should be eating.
Emotionally, I was a train wreck. I wanted to gain weight to be invisible to everybody. I was feeding my sadness and hurt instead of getting counseling for the rape that happened when I was 17 years old. Every time I went on a weight loss plan, I would start to get attention toward my body and put the weight back on.
There was no exercise in my life at all. I went to college and gained more weight. I got a degree, but it didn't matter; I wanted to hide. I got married: time to gain more weight. My wedding dress was a size 20. I had two adorable children -- let's celebrate with more weight. At my heaviest after my daughter was born, I was 252 pounds. Both children have a lot of medical issues.
Breaking Point: My son had to have his leg broken in 2009 for hip dysplasia, and he was put in a full-body cast. He was 9 years old at the time. I was so heavy I couldn't take care of him. I needed to get a full-time nurse's aide to help me. I had had enough of asking for help. I was tired of being helpless and weak in every avenue of my life.
I was scheduled to go back to work on November 1, 2009, which was going to be the start of my new life. A friend told me about caloriecount.com. I started to cook at home. I measured everything that went into my mouth. I saved so much money by eating at home I bought a new car. About a week later, I walked into the gym around the corner from me and joined. There was no backing out now.
How I Lost It: I met this trainer named Mario Del Valle; he became my friend for life. He showed me I was worthy of being heard and seen. He's a retired boxer with classes all over the local area. We would get into the ring to spar for a full minute. At first, I couldn't last the minute. I now go three full minutes, plus exercises on the side. I finished my first 5K on August 11, 2011 in 36 minutes, which was amazing to me. I was about 175 pounds. I entered a Tough Mudder on May 6, 2012. I only made it nine miles before I got hurt, but it didn't derail me because I now believed in myself for the first time in my life.
Shortly after that race, I got divorced. I moved into my own for the first time ever at 43. I'm in a great relationship. I've done a lot of other races. I am currently a size 2, very different then my size 20 wedding dress.
After Weight: 143 pounds. I have 23 pounds to go for my goal weight.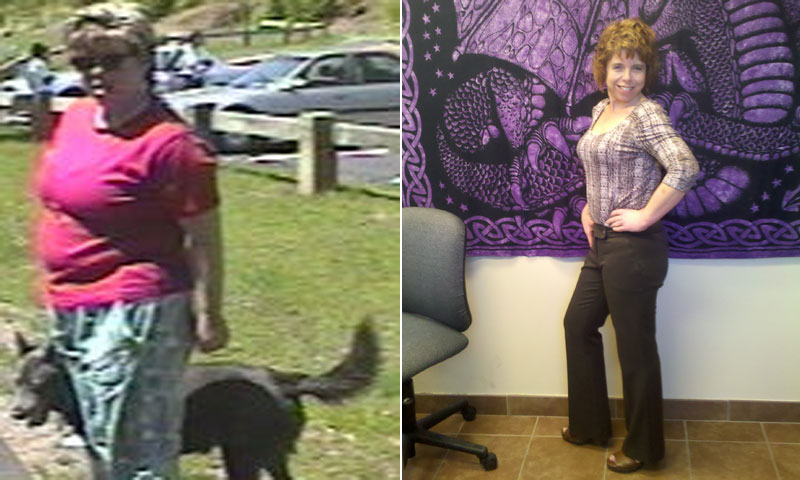 The Huffington Post publishes photographs as they are submitted to us by our readers.
Check out more of our inspiring weight loss stories below:
PHOTO GALLERY
Weight Loss Success Stories
For more on weight loss, click here.