Jennifer Lawrence is officially a Hollywood glamour girl, having landed the coveted September cover of Vogue. But her interview with the fashion mag, published online this morning, makes sure to remind us that she's still the goofy, unfiltered girl we know and love.
In case we'd forgotten just how silly she is, Lawrence revealed this anecdote to Vogue:
"My family went on a cruise, and I got a terrible haircut. FYI: Never get your hair cut on a cruise. And I had, like, this blonde curly 'fro, and I walked into the gym the first day back in seventh grade and everyone was staring at me, and for some reason I thought, I know what I need to do! And I just started sprinting from one end of the gym to the other, and I thought it was hilarious. But nobody else at that age really did. It was genuinely weird."
Don't believe it? We pulled up a photo of Jennifer from eight grade and sure enough, she's got blonde curls that look perfectly suited for a "'fro" (although it seems like her hair grew out nicely between seventh and eighth grade, thankfully).
Lesson learned: Even tweens with awkward middle school phases can grow up to become Vogue cover girls. Read the rest of J-Law's Vogue interview at Vogue.com.
Jennifer Lawrence, then and now: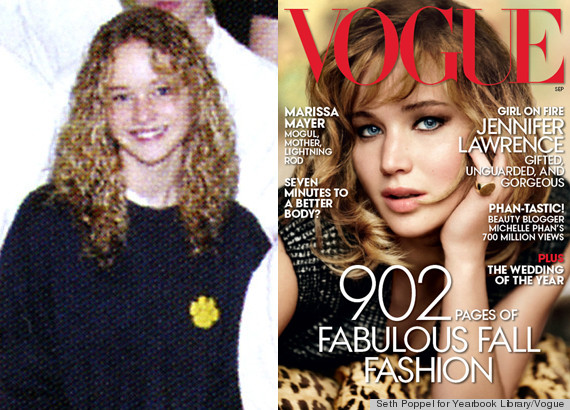 Girl's all grown up:
PHOTO GALLERY
Jennifer Lawrence's Style Evolution
Want more? Be sure to check out HuffPost Style on Twitter, Facebook, Tumblr, Pinterest and Instagram at @HuffPostStyle.