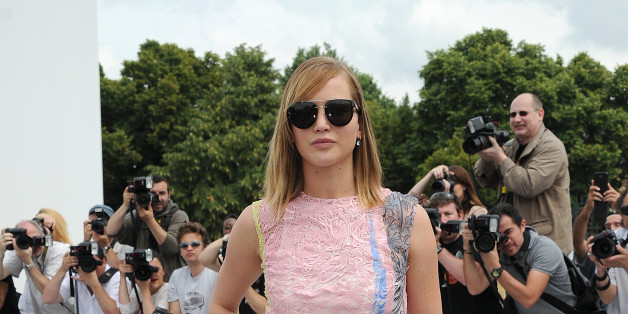 Jennifer Lawrence's cover interview for the September issue of Vogue is just about the best thing ever, if only because it includes the Oscar-winning actress asking this of the magazine's reporter: "Should we just get drunk?"
Beyond that, Lawrence does nothing in the Vogue story to disabuse the notion that she's everyone's best friend (she loves "Homeland" and James McAvoy but hates goat cheese). Then there's this amazing anecdote from David O. Russell, who directed Lawrence to the Best Actress trophy in "Silver Linings Playbook":
"I remember Bradley Cooper and I saying, 'Is this kid even paying attention?' Because she's goofing around or eating my potato chips or making fart jokes. And then all of a sudden, she comes in, and bam! She's like a lot of great athletes. You see that they stay loose, and that's how they can be so in-the-moment while under enormous amounts of pressure. If there's two minutes left in the game, they can come in and do something extraordinary because their jaw is not getting clenched. Jen stays loose. And then she hits a three-point shot from some ridiculous distance and we all just look at each other and go, 'Wow.'"
J.Law: from fart jokes and potato chips to winning an Oscar. No wonder she beat Meryl. For the rest of the Vogue interview, click here.
[via Vogue]
PHOTO GALLERY
Jennifer Lawrence's Style Evolution