No wonder JPMorgan Chase is too big to fail: It's squeezing at least two very different banks inside one.
One bank is an (alleged!) serial troublemaker constantly being hassled by the authorities. The other is a can't-miss trading wizard beloved by investors.
You can see this just by looking at the calendar. During the second quarter of this year, JPMorgan caused headaches for its own public-relations department by making the pages of either the Wall Street Journal or the New York Times for unwelcome reasons on at least 27 different days, according to a review by The Huffington Post.
During that same quarter, the biggest U.S. bank suffered trading losses on zero different days, it said in a recent regulatory filing. That's right, zero days. (Story continues below perspectivizing chart.)
JPMorgan shareholders, as usual, chose to focus on the positive. The bank's stock rose nearly 12 percent during the quarter, while CEO and Chairman Jamie Dimon was able to keep all of his many titles, along with the keys to the Freewinds. (Story continues below chart of the quarter's highlights and lowlights.)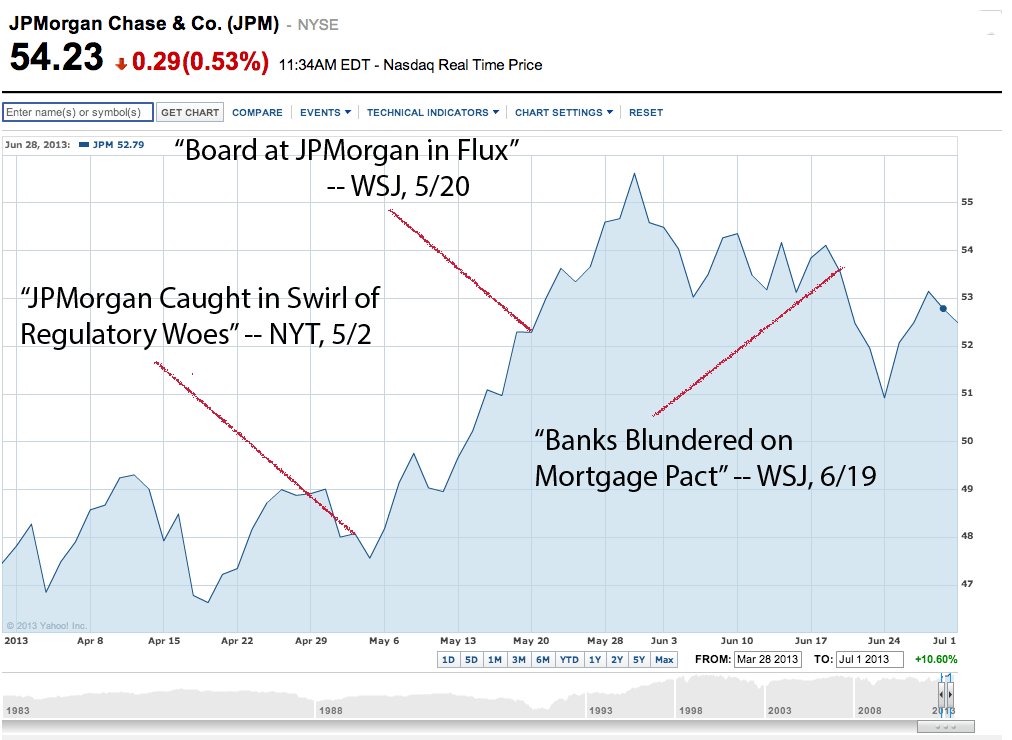 In contrast, even Goldman Sachs, the great Vampire Squid, lost money on six different days in the quarter. Morgan Stanley remains the Jan Brady of Wall Street, losing money on 12 trading days. Goldman Sachs was once Marcia Brady, but now that honor belongs to JPMorgan, which has not had a day of trading losses in the past two quarters.
Meanwhile, the bad news just keeps on coming for JPMorgan, and at an even faster pace: We're not even halfway through the third quarter, and already the bank has made the WSJ for bad reasons on 18 separate days since the start of July.
These tales of woe include a settlement of charges that the bank manipulated electricity markets in California and the Midwest; the bank shedding its physical commodities-trading business under scrutiny by federal regulators; and new civil and criminal probes into its sale of mortgage-backed securities -- j =ust to name a few.
The very latest is that U.S. authorities would like to arrest a couple of former lower-level JPMorgan employees who allegedly tried to mask just how much money the bank was losing in its "London Whale" trades last year. Ironically, the bank seems to have at least learned one lesson from all of this bad news: How to stop losing money in trades.
BEFORE YOU GO
PHOTO GALLERY
Jamie Dimon Hates On Regulation: A History