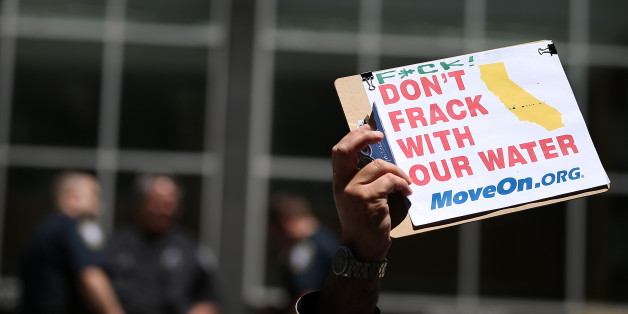 It's been more than a year ago since Michigan auctioned more than 100,000 acres of public land for use by oil and gas companies. But the fight over fracking, slow at first, has taken off this summer. As the controversial natural gas drilling practice picks up, so does opposition.
Fracking, or hydraulic fracturing, blasts water, chemicals and sand into underground fissures, releasing natural gas. Some Michiganders see economic opportunity in the technique, which allows previously inaccessible gas deposits to be tapped. Backers include Gov. Rick Snyder (R) and the state Chamber of Commerce.
Last week, the chamber launched pro-fracking campaign "Protect Michigan's Energy Future." The group's website touts energy independence, job creation and decades of safe fracking in the state. It also specifically targets fracking opponents.
"The dangerous petition drive to ban hydraulic fracturing is based on fear and emotion, not facts or sound science," said Rich Studley, president and CEO of the Michigan chamber . "It is a direct attack on a key industry that provides good jobs and energy independence for our state."
Some fracking opponents, fueled by environmental and health concerns, are collecting signatures to put a proposal to ban fracking on the 2014 statewide ballot. The group needs more than 250,000 petition signatures.
"Stopping a well here or there, in one community or two or in just the parks will help, but it does not prevent the overall, large-scale invasion of this toxic, polluting industry from destroying our state." the Committee to Ban Fracking in Michigan says on its website.
Nancy Shiffler, a member of the Sierra Club Michigan chapter's executive committee and co-chair of the group's Beyond Natural Gas and Oil Committee, said she takes encouragement from the chamber's campaign.
"It's a sign that the anti-fracking movement is having an impact," Shiffler said.
The Sierra Club advocates a moratorium on new gas well permits until the impact of fracking is studied more thoroughly.
"The fracking they're talking about that goes back 50 years was vertical wells, much shallower wells, and what's happening now is the hydraulic fracking," Shiffler said. "It's much deeper, it's a much wider base of chemicals and a lot more water. It's not your grandfather's fracking.
"The state should be taking a much more cautious look at what the impact of these new technologies is going to be on our water and air and landscape fragmentation and so forth," Shiffler added.
Horizontal fracking, a now-common drilling technique, allows a well to extend sideways through a gas pocket. The method has only been used in Michigan since 2010.
In Oakland County, north of Detroit, county Water Resources Commissioner Jim Nash has been holding town hall meetings month after month, explaining fracking to residents of an area that features more than 100 lakes.
"It's all about educating people as to the potential benefits and the potential hazards and costs," Nash said. He said officials are worried about fracking's effects on infrastructure and individuals are worried about possible impacts on well water and lakes.
"If there's a spill, if there's an accident, it could have a really large economic impact on the county," Nash said.
Last month, Democratic legislators in the state House introduced eight bills designed to regulate the industry, provide more information to citizens and give communities a voice in the process. Katie Carey, a spokeswoman for the lawmakers, said they don't have high hopes in the Republican-controlled House after similar bills last session went nowhere.
Fracking is sure to be a continued concern. Encana, a Canadian firm, wants to drill 500 or more new gas wells in northern Michigan. The state cited the company this month for spilling more than 300 gallons of water and brine into the ground at a fracking site in Michigan.
"People are seeing more if it right in their own backyard," said Shiffler. "That tends to increase the concerns, but we've been hearing about it from people all over the state."
BEFORE YOU GO
PHOTO GALLERY
Drilling And Fracking Photos