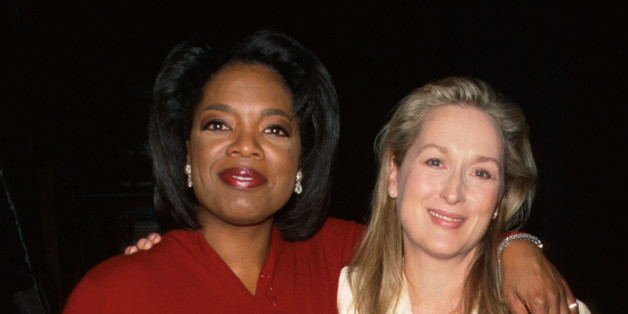 There are just under 29 weeks between now and the 2014 Academy Awards, but that doesn't mean it's too early to start speculating about next year's biggest races. Case in point: GoldDerby.com editor Tom O'Neil reports that Meryl Streep will be eligible for Best Supporting Actress at next year's Oscars ceremony for her role in "August: Osage County." That decision puts Streep in direct competition with Oprah Winfrey, who has already earned awards buzz for her showy role in "Lee Daniels' The Butler."
The twist of this shift is that Streep's role in "August: Osage County" is of the leading variety. As O'Neil notes, Streep plays Violet Weston in John Wells' adaptation of Tracy Letts' award-winning play, a part that won Broadway star Deanna Dunagan Best Actress at the Tony Awards.
Not that actors aren't often thrust into the supporting category to avoid vote-splitting between other co-stars. (Streep's co-star is Julia Roberts, who O'Neil writes becomes a front-runner for Best Actress because of the move.) Just last year, Philip Seymour Hoffman was shifted to Best Supporting Actor for "The Master," this despite the fact that his part was of equal standing with Joaquin Phoenix. The decision worked, as both men received Oscar nominations -- Phoenix for Best Actor, Hoffman for Best Supporting Actor. A similar move was made on "Django Unchained," with Christoph Waltz dropping to Best Supporting Actor despite having a leading role. Waltz wound up winning the category at this year's Oscars; his "leading" co-star, Jamie Foxx, was not nominated for Best Actor. (Some trivia: All the films mentioned, including "August: Osage County" and "The Butler," were released by The Weinstein Company.)
Whether Streep and Winfrey wind up receiving Oscar nominations for their respective work is a ways out; nominations for the 2014 Oscars will be announced on Jan. 16.
For more on the move, head to GoldDerby.com.
[via GoldDerby.com]
PHOTO GALLERY
Celebrity News & Photos