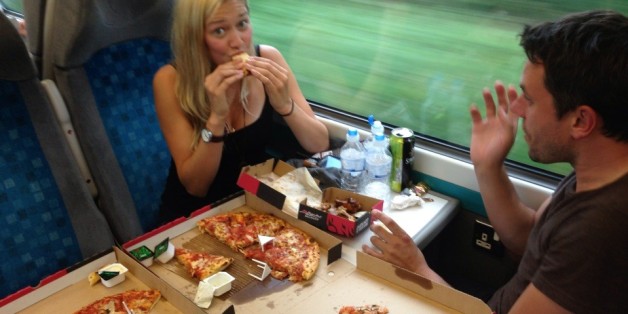 Redditor photosoflife recently posed what sounds like an impossible request to a local Pizza Hut: deliver me a pizza sometime during my four-hour train ride.
Not only did Pizza Hut deliver (literally), pictures posted to Reddit of the successful order went viral. That's perhaps what the user wanted all along -- in the comments, she copped to being a Pizza Hut employee "in charge of our 'Get our food onto moving public transport' team."
That fact makes this feat just slightly less magical, but it's still pretty cool. Plus, the Reddit user swears in the comment section that it wasn't paid for or orchestrated by Pizza Hut.
The delivery was made at Newport Station in South Wales, U.K. with the help of the train conductor, who rang the station ahead of time to alert officials. The delivery man was allowed inside without a ticket, and the drop was made. "It was a carefully planned and beautifully executed plan," wrote the Reddit user.
But, apparently, the stunt could have gone a different way. "I'm not going to lie, I would have much rather had Domino's but they refused our challenge :( ," wrote the user.
Take a look at the unconventional delivery below:
BEFORE YOU GO
PHOTO GALLERY
Mind-Blowing Fast Food Inventions