Three of six stolen bulldog puppies were returned to their rightful owner Saturday after the police released footage of the theft, but the whereabouts of the other missing dogs is still unknown.
"I'm just so happy to have them back," said owner Ryan Fingerle in an interview with KTLA. "I just want to thank everyone for your help."
Fingerle, who is hearing impaired, was raising the puppies to be aides to other hearing impaired people. In a previous interview (video below), she told KTLA that the pup's mother, an American bulldog named Kylie, had been such an enormous help to her that she wanted to give others the same opportunity to own a service dog.
Fingerle had brought the six puppies to a Highland Park animal hospital in Los Angeles, Calif. Monday. After the appointment was over, she realized she had forgotten to sign some documents so she left the dogs in her air-conditioned car, reports KTLA.
When she returned, all six puppies were missing.
(Photos of the puppies via KTLA. Story continues below).
PHOTO GALLERY
Missing Bulldog Puppies
The Los Angeles Police Department released photos of the two men who had been caught on camera taking the dogs out of the car. Authorities described the suspects as white or Hispanic men between 25 to 35 years old. They are both estimated to be 5'6 to 5'10 tall and weigh between 160 to 200 lbs (See LAPD community alert below).
The security camera footage shows two men walking past Fingerle's car and noticing the puppies inside. They then open the car door and walk away with the puppies, just seconds before Fingerle returns to her car.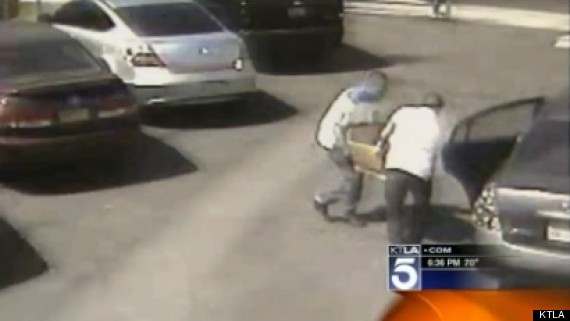 Remarkably, a witness told authorities that the men had thrown some of the puppies over a fence, which led to the recovery of three dogs, reports NBC News.
Each dog is estimated to be worth $1,000.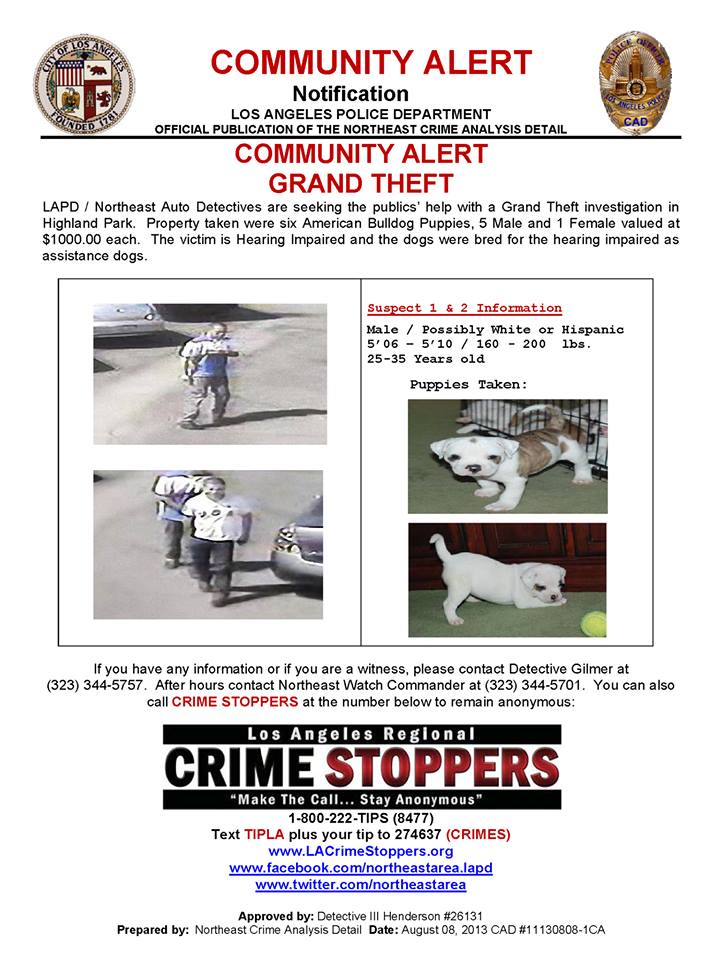 BEFORE YOU GO