Heavy rains and flash floods in Sudan have killed at least 36 people and forced thousands to leave their homes. The United Nations warned on Sunday that more than 150,000 people in the impoverished nation have been affected by the disaster and the number is expected to rise.
"More rains are expected in the coming days and the estimated number of affected people is likely to rise further as rains continue and as more information becomes available," the UN's Office for the Coordination of Humanitarian Affairs said, according to Agence France Presse.
Worst hit is the Rive Nile state in the country's north, near the Egyptian border. The Associate Press notes, however, that eight other regions have been affected as well.
"There is no way now. We are stuck. We have nowhere to start," Moses Okello, a Khartoum resident whose rental house was destroyed, told Al Jazeera.
Take a look at these impressive photos from the destruction in Sudan. A Sudanese homeless girl rests on the side of a highway in Khartoum,Tuesday, Aug. 6, 2013. Floods that hit different areas in Sudan this week have lead to destructions of hundreds of homes, death of scores and dozens injured. (AP Photo/Abd Raouf) In this Saturday, Aug. 3, 2013 photo, Sudanese men push a car out of flood water in Khartoum, Sudan. Heavy rains this week have flooded roads in the capital Khartoum and other parts of the country. (AP Photo/Abd Raouf)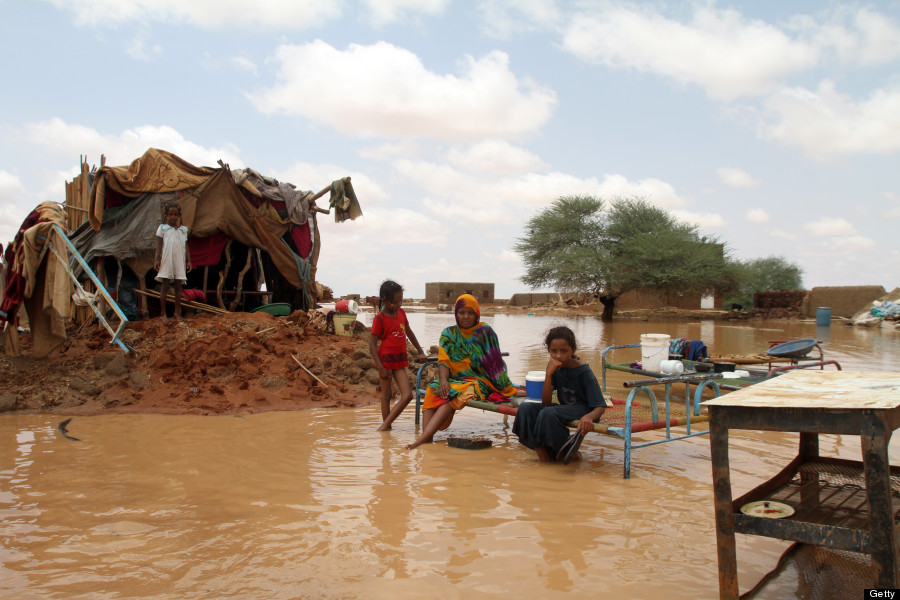 A Sudanese family sits next to their house in a flooded street on the outskirts of the capital Khartoum on August 10, 2013. (ASHRAF SHAZLY/AFP/Getty Images)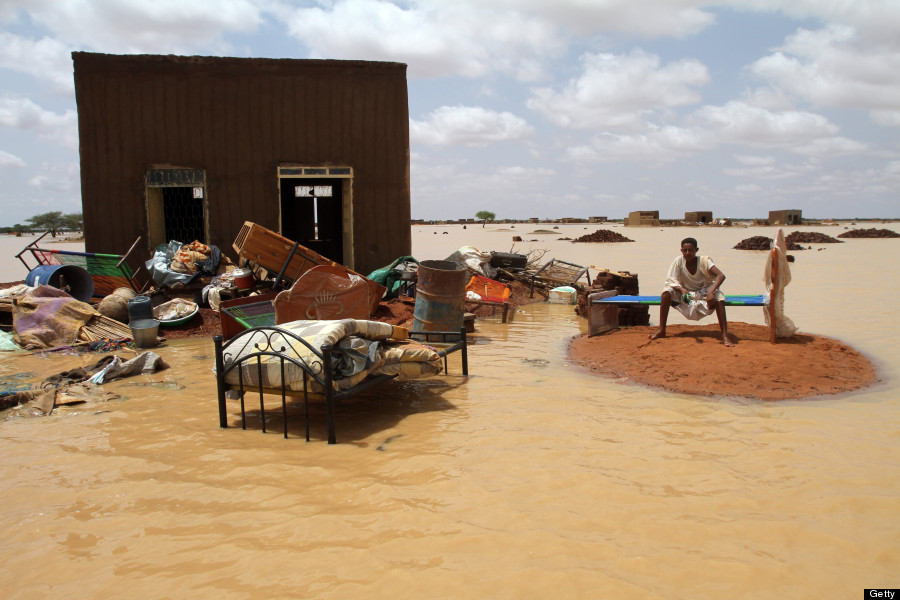 A Sudanese man sits next to his house in a flooded street on the outskirts of the capital Khartoum on August 10, 2013. (ASHRAF SHAZLY/AFP/Getty Images) A Sudanese homeless man moves furniture from his destroyed home near a highway in Khartoum,Tuesday, Aug. 6, 2013. (AP Photo/Abd Raouf) A Sudanese man walks on the side of a highway in Khartoum, Sudan, Tuesday, Aug. 6, 2013. Floods that hit different areas in Sudan this week have lead to destructions of hundreds of homes, death of scores and dozens injured. (AP Photo/Abd Raouf) A Sudanese homeless family rest on the side of a highway in Khartoum,Tuesday, Aug. 6, 2013. Floods that hit different areas in Sudan this week have lead to destructions of hundreds of homes, death of scores and dozens injured. (AP Photo/Abd Raouf) A homeless Sudanese family rests on the side of a highway in Khartoum, Sudan, Tuesday, Aug. 6, 2013 as heavy flooding threatens the region. (AP Photo/Abd Raouf, File)