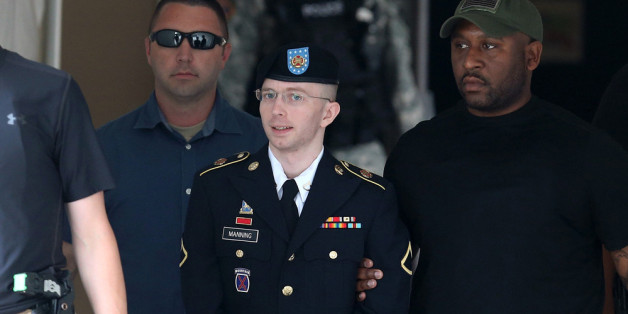 FORT MEADE, Md. -- The subject of the email was "My problem."
"I've had signs of it for a very long time," Bradley Manning wrote. "It caused conditions within my family. I thought a career in the military would get rid of it. ... But it's not going away, it's haunted me more and more as I get older."
There was a photograph attached. Sitting in a car, looking anguished, Manning stares into the camera's lens. He is wearing a blonde wig and makeup.
Lawyer David Coombs showed that picture of his client on Tuesday during the second day of defense witnesses' testimony in the sentencing phase of the WikiLeaks source's court martial. As Manning faces a maximum 90-year sentence, Coombs is attempting a delicate balancing act: Show that the Army's chain of command broke down in allowing his troubled client access to classified information, while not pathologizing away his claim of being a whistleblower.
Coombs is trying to show, as he put it in a pretrial filing, that Manning did "the right thing for the right reason but under flawed reasoning," and that if the Army didn't stop him, it was in part its own fault.
In nearly two hours of intense testimony on Tuesday, Coombs examined Paul Adkins, at the time the master sergeant responsible for discipline within Manning's small intelligence unit and the recipient of Manning's email. Adkins has been humbled by his interactions with Manning; he had his rank reduced as a result of the Army investigation into the leaks, and he was repeatedly criticized during the trial for his lax leadership style.
Adkins spoke haltingly, but the takeaway was clear. The red flags started well before that tormented April 24, 2010, email, before Manning sent the Iraq or Afghanistan war logs to WikiLeaks, and even before he was deployed to Iraq in October 2009.
In June or July 2009, Manning had an "angry outburst" after he was counseled for being late to formation.
Well aware of Manning's mental health issues, Adkins considered not sending him to Iraq. But another soldier in the intelligence unit of Manning's 2nd Brigade Combat Team had a heart attack, which meant he was already staying behind.
"I would say there was that indirect pressure of making sure that anyone who could physically deploy was deploying," Adkins said. "In a perfect world, I think if I could have left him back to make sure that he was getting behavioral health care on a consistent basis, I would have."
Instead, Manning was deployed to Iraq. The prosecution and defense have presented different narratives during the trial about whether he started making disclosures to WikiLeaks almost immediately, around Thanksgiving 2009, or whether he began in January 2010.
By either timeline, however, had Adkins alerted his supervisors to warning signs about Manning, he might have had his security clearance revoked before sending WikiLeaks the Iraq and Afghanistan war logs, hundreds of thousands of State Department cables, Guantanamo detainee assessment files, and the "collateral murder" video of an Apache helicopter strike in Baghdad.
Before any of those leaks was transmitted to WikiLeaks, during a counseling session in December, Manning flipped a table with two computers on it and allegedly headed for a weapons rack.
"I grabbed him and put him in a full nelson," said Chief Warrant Officer 2 Joshua Ehresman, who testified prior to Adkins on Tuesday.
Ehresman and others told Adkins about that dramatic incident, but Adkins did nothing. Adkins also did not react to the chair-flipping incident, nor did he inform his superiors about the April 2010 email with the photo of Manning in the wig attached.
At the time, the military's don't ask, don't tell policy banning service members from telling their colleagues that they were gay was in place. Transgender military members are still forced to serve in secret to this day. But neither Coombs nor Adkins referenced those policies in court.
"I don't remember exactly why I didn't recommend the clearance be removed, specifically," Adkins said. "But ... I felt that his presence and his -- what he provided to us as an intelligence section was important enough to retain him."
BEFORE YOU GO
PHOTO GALLERY
Guantanamo Bay Revelations From WikiLeaks