Today we got a lesson in the power of Twitter, the power of Carl Icahn, or both.
A single tweet on Tuesday by the billionaire hedge-fund manager boosted the stock price of Apple, the biggest U.S. company by market capitalization, by 3 percent in a matter of minutes. At about 2:21 p.m. ET, Icahn tweeted:
We currently have a large position in APPLE. We believe the company to be extremely undervalued. Spoke to Tim Cook today. More to come.

— Carl Icahn (@Carl_C_Icahn) August 13, 2013
While Icahn hasn't disclosed how much money he invested in the tech giant, the Wall Street Journal reported Tuesday evening that his stake in Apple is now worth over $1 billion.
Icahn followed up with a tweet a few minutes later suggesting he would agitate for Apple to give more of its $147 billion cash pile to investors:
Had a nice conversation with Tim Cook today. Discussed my opinion that a larger buyback should be done now. We plan to speak again shortly.

— Carl Icahn (@Carl_C_Icahn) August 13, 2013
Almost immediately, Apple's stock, which was already about two percent higher on the day, jumped another 3 percent -- worth about $10 billion in market value. (Story continues after chart.)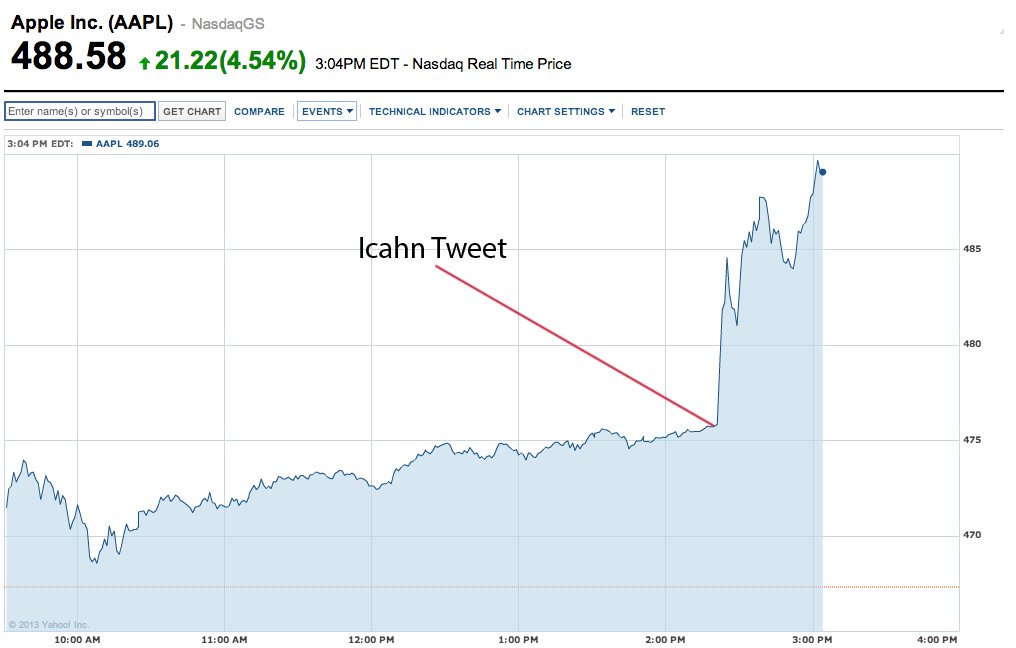 Author and investor Eric Jackson observed:
When Icahn tweets, people listen

— Eric Jackson (@ericjackson) August 13, 2013
Obviously, the biggest winner here is Icahn, who got yet another boost to his ego. He has been on Twitter less than two weeks and is getting a quick lesson in the instant gratification it provides. Except instead of a few retweets and LOLs like the rest of us saps get, his tweets create $10 billion in paper wealth.
Apple shareholders are also happy with the stock's big jump. Apple itself may not be so thrilled, on the other hand, as it now is being pushed to give back cash more quickly than it wanted. That could involve, gasp, bringing some cash home from overseas.
The big losers here are Oracle CEO Larry Ellison, who earlier on Tuesday warned that Apple would "not be nearly so successful" without Steve Jobs, calling Jobs "irreplaceable." Ellison's declaration made nary a dent in the stock, in contrast with Icahn's.
The other big loser today is Icahn's bitter rival, hedge-fund manager William Ackman, who has lost an estimated $400 million in a war with Icahn and other hedge-fund managers over the weird-shake-marketing-thing Herbalife. Icahn claims he has made $500 million betting in favor of Herbalife, in direct conflict with Ackman, who calls the company a pyramid scheme.
Ackman has been in the news the past couple of days for a short-lived beef with J.C. Penney, and news that Herbalife is under investigation for a safety issue from a couple of years ago.
Icahn found a way to snatch the spotlight back for himself, in less than 140 characters.
UPDATE: 6:37 p.m. -- This story has been updated to include Carl Icahn's stake in Apple.
BEFORE YOU GO
PHOTO GALLERY
5 Companies Apple Aped