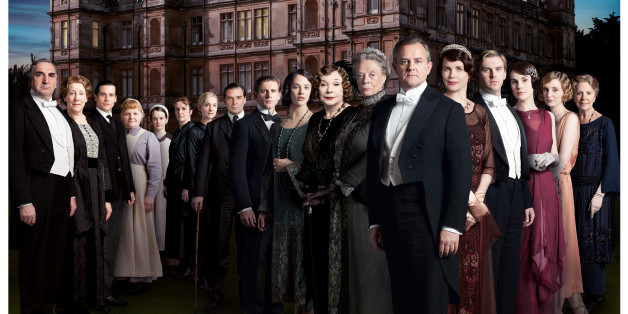 "Downton Abbey" is a smash hit on both sides of the pond, but who came up with the ingenious idea to bring some soapiness to the early 1900s?
In the new issue of Emmy Magazine, executive producer Gareth Neame said he and "Downton Abbey" creator Julian Fellowes developed the idea for the series over dinner. Neame said he asked Fellowes if he'd be interested in revisiting themes of his 2001 flick "Gosford Park," but with fast-paced, soapy stories. And the rest, as they say, is history.
Now entering its fourth season, "Downton Abbey" has become a smash hit with the Season 3 finale breaking ratings records on PBS. Neame said the secret to the show's success is the amount of players behind the scenes or rather, lack thereof -- Fellowes writes every episode by himself.
"Part of the show's success is that we are still operating as a result of that first dinner -- the two of us cooking something up and him being free as the creator and writers of the show to do what he wants to do, and not be assaulted by thirty or forty groups of people saying, 'You should do it this way, this way!'" Neame said, noting that large production teams cause many shows to struggle because there are too many cooks in the kitchen. "That is not what's going on with 'Downton.' It's the smallest producing team of any television show, and it works for us."
The "Downton Abey" Season 3 finale ended with the death of Matthew Crawley (Dan Stevens), a result of Stevens wanting to leave the series. Season 4 begins with the newly widowed Lady Mary (Michelle Dockery) picking up the pieces of her life and will introduce several new characters including Daisy Lewis as a new nanny, Gary Carr as jazz singer Jack Ross and others played by Tom Cullen, Nigel Harman, Dame Harriet Walter, Joanna David, Julian Ovenden and Dame Kiri Te Kanawa. Paul Giamatti also joins "Downton Abbey" Season 4 as Harold, Cora's (Elizabeth McGovern) brother, and Shirley MacLaine will return as Cora's mother.
"We're excited that Paul Giamatti will be joining us on 'Downton' to play Cora's brother Harold, the rather free-spirited uncle to Mary and Edith," Neame said in a statement. "We can't wait to see him work alongside Shirley MacLaine, who are both sure to upset the Grantham's apple cart in this year's finale."
For more, click over to Emmy Magazine.
"Downton Abbey" premieres Sunday, January 5, 2014 on PBS.
BEFORE YOU GO
PHOTO GALLERY
"Downton Abbey"