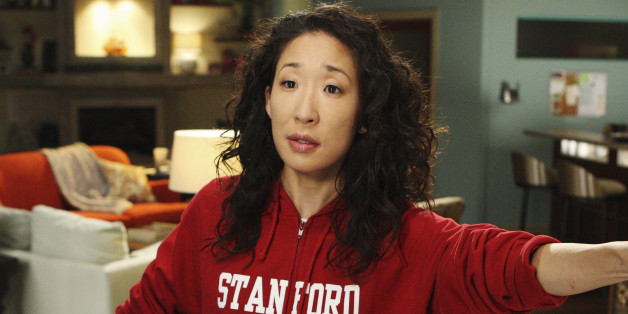 With today's sad news that Sandra Oh will be leaving "Grey's Anatomy" after 10 seasons, we can't help but get nostalgic for Cristina Yang's glory days on Shonda Rhimes' hit ABC series.
Yang has had some of the sassiest, funniest, more poignant and emotional scenes on the show and she isn't just Meredith Grey's (Ellen Pompeo) person -- to a lot of fans, she's the voice of reason on the show, saying the things most people with a filter never would.
Remember when ...
She lost her eyebrows thanks to her future mother-in-law:
And then panicked when it came time to walk down the aisle, causing the wedding to get called off anyway:
She rejected McSteamy in the sassiest way possible:
She reflected on her father dying in a rare emotional moment:
She had a breakdown and took it out on Callie's hair:
And in the Season 8 finale, after the plane crash that took the lives of several friends, she broke down with Meredith. Baffled by their collective bad luck, she said "I can tell you one thing: When we get out of here, I am getting the hell away from Seattle Grace Mercy Death and I'm never looking back!"
For a lot of fans, that felt like it could've been the natural end for Cristina Yang on the show. She and Mer maintained a long-distance friendship when she moved to Minnesota, but she soon came back to Seattle to try to repair her life, her career and her relationship with Owen (Kevin McKidd).
Then this past season, she was a stronger surgeon than ever, even operating in the dark:
And we can't forget Oh's adorably flustered speech when she won the Golden Globe for Best Supporting Actress in a Series, Mini-Series or TV Movie in 2006:
(She won the Screen Actors Guild Award that same year, and has also been nominated for five Emmys for the role.)
We'll only have one more season of "Grey's Anatomy" with Cristina Yang -- how do you think she'll be written off the show? Share your ideas and your own favorite Cristina moments in the comments.
"Grey's Anatomy" Season 10 premieres on Sunday, September 26 at 9 p.m. ET on ABC.
BEFORE YOU GO