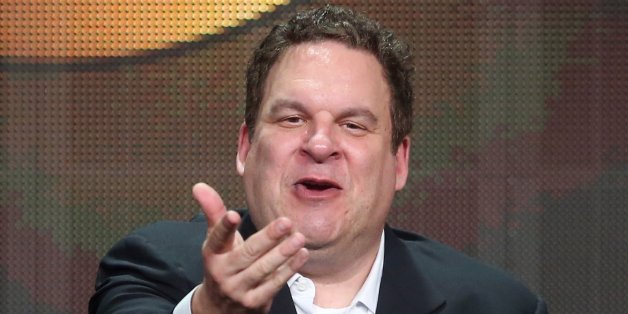 Jeff Garlin really knows how to go on an entertaining rant. The "Curb Your Enthusiasm" star, who's set to anchor ABC's new comedy "The Goldbergs" this fall, blasted the infamous "Game of Thrones" Red Wedding scene in a recent episode of his podcast, "By The Way, In Conversation With Jeff Garlin."
Dustin Rowles of Uproxx first pointed out the hilarious diatribe, that starts at about the 1:25 minute mark of the podcast. In a conversation with "Breaking Bad" creator Vince Gilligan about how TV budgets and production values have eclipsed that of most indie movies, they got to talking about "Game of Thrones," as one of the HBO drama's directors Michelle MacLaren sat in the audience.
Garlin took the opportunity to offer a blistering critique of the "Game of Thrones" Red Wedding scene, and the grisly death of one character in particular. He even said he doesn't want to watch the show anymore because of it.
Check out a transcript of Garland's rant below, and click over to his podcast to listen to the whole thing in its full glory.
Warning: "Game of Thrones" spoilers below.
"Yeah, I'm not gonna watch it anymore, though. I'm sorry. Don't get me started. It pissed me off. I loved that show up until the second to the last episode. It made me angry ... It's an amazing production, but I'm still not gonna watch it.

I don't trust them anymore. I don't trust the 'Game of Thrones' people. (To Gilligan:) By the way, kill Walter White. You've already done it maybe. Do what you want, but don't stab a pregnant woman in the stomach. That's all I ask of you. Am I wrong?! A character who doesn't die in the books, not only she does she die, but brutally?

(To MacLaren:) You didn't direct that episode, did you? (MacLaren: No, I didn't.) Will you go back and tell them how upset I am that a character who didn't die ... 'cause I don't mind the other characters dying -- they died in the books. Why not? But a pregnant lady? Stabbed in the stomach? F*** you! That made me nuts. That was the most violent thing I'd ever seen ... I saw 'Drive' -- that was way more violent than anything I saw in 'Drive.' That made me nuts! F*** HBO.

... I love HBO. They've been great to me, and hopefully, there'll be more 'Curb Your Enthusiasm.' But ... but ... ahhhh! That's all I'm saying. It's a big ball of wrong.

(To Gilligan:) And I'm just telling you here, you could've done anything you want with those characters. You didn't stab Skyler when she was pregnant. Were you tempted to? (Gilligan: No.) Exactly. 'Breaking Bad,' a violent f***ing show, would have never stabbed a pregnant lady!"
"Breaking Bad" airs Sundays at 9 p.m. ET on AMC.
PHOTO GALLERY
"Game Of Thrones"
BEFORE YOU GO