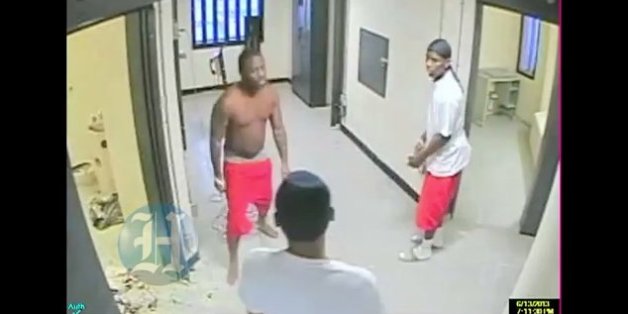 Jail cell doors aren't supposed to open unplanned and all at once.
But dramatic footage of a security breech at Miami's Turner Guilford Knight Correctional Center is raising suspicions that the mass opening of cell doors in a maximum security wing was premeditated.
Internal surveillance video obtained by the Miami Herald captured the exact moment the doors of the K-81 wing opened simultaneously. Two inmates found to be carrying weapons can be seen slipping out of their cells, as if they were expecting the doors to open.
Footage shows the pair retreating into a common area, as one appears to pass off a makeshift weapon to another inmate. Then they and several others confront a shirtless man identified Kenneth Williams, an alleged gang member from Liberty City. As the inmates close in on a cornered Williams, he leaps off a second tier balcony to the ground below.
Williams fractured his back and broke an ankle in the leap to safety, according to NBC6. CBS Miami reports he was charged with carrying his own homemade shank, which he appeared to hand off to another inmate after sustaining his injuries.
"I still can't believe it actually occurred," Williams' attorney, J.C. Dugue, told the Tampa Bay Times. "The negligence is amazing, especially if they knew this was already a problem. My client has lots of enemies in jail, and he is in a safety cell for a reason."
The sliding door system is part of a new $1.4 million computerized security upgrade, reports the Times.
The Miami-Dade Department of Corrections is looking into whether any officers at the jail were responsible for triggering the "group release" feature.
"We want to be able to trust our staff," director Tim Ryan told the Herald.