The problems of dating in 1969 are generally the same as those of dating in 2013. There's the long-held conviction that there just aren't any suitable potentials out there, the awkwardness of who follows up with who and the appropriate way to communicate one's interest. There's the flirty message. There's flowers. And then there's food.
The latter was the conclusion reached by Helen Gurley Brown, the iconic Cosmo editor who passed away on this day last year, when she published "The Single Girl's Cookbook." A follow-up to her 1962 best-seller "Sex And The Single Girl," this guide to eating, drinking and entertaining one's way into another's heart provides an amusing glimpse into the past.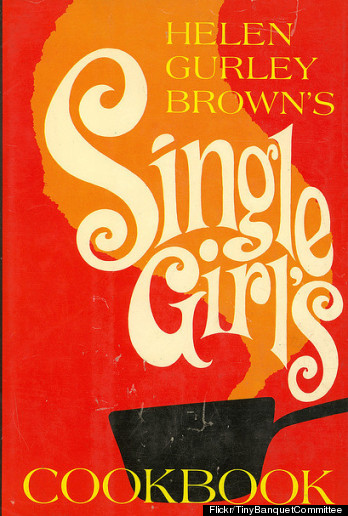 Photo via Tiny Banquet Committee
For instance, I need to frame this gem, on the topic of serving highballs (Tiny Banquet Committee agrees):
[W]atch out for anybody who demands cream soda or clam juice or some other esoteric beverage. You have a nut on your hands and the next thing you know he'll be running his hands over the bottom of your bathtub to see if it's grit-free, or running his hands over the bottom of you or one of your guests...
However, "The Single Girl Cookbook" also has genuine recipes. Like most from the time period, it assumes that men are perpetually hankering for red meat. It's in this spirit that Gurley Brown offers up a recipe for boeuf bourguignon. While the time commitment might deflate the spirits to Gurley Brown's busy singles, she attempts to justify the output by likening the stew to a Bill Blass suit.

Photo via Tiny Banquet Committee
What's sillier: The comparison of a meat dish to a Bill Blass suit, or that a suit would inspire a gentleman to ravish the cook?
Overall, we applaud the effort to seduce via meat slab. Though we think that this kind of thinking would only work on Mr. Ron Swanson.
Great for attracting the Ron Swanson in your life.
BEFORE YOU GO
PHOTO GALLERY
Helen Gurley Brown