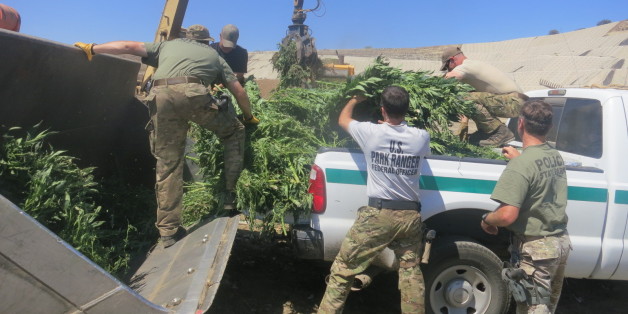 Topanga State Park in Los Angeles is considered the world's largest wildland within a major city, which may be why enterprising marijuana farmers thought they could get away with cultivating a massive hidden pot farm.
Authorities removed nearly 5,000 pounds of mature marijuana plants in a raid Friday. The estimated worth? $2.5 million. In addition to the pot, rangers removed over 500 pounds of trash, camping gear and farming infrastructure.
Photos of the marijuana raid courtesy of California Department of Parks and Recreation. Story continues below.
PHOTO GALLERY
Topanga State Park Pot Farm Raid: Aug. 9, 2013
The marijuana farm, divided into seven separate plots hidden throughout the forest, was so big that a helicopter from the Los Angeles County Sheriff's Department was called in to assist. The plants were initially spotted by California State Park Rangers on patrol, and agents from National Park Service and the Mountains Recreation and Conservation Authority were also involved.
No suspects were spotted, but the investigation is ongoing.
The large scale marijuana plots caused "significant" damage to the forest, noted the California Department of Parks and Recreation in a press release. Craig Sap, Superintendent of California State Parks Angeles District, explained the damage further in an email to The Huffington Post:
When these illegal grows go in, they clear significant portions of the land in order to place the seedlings in the ground. They use fertilizers that end up in the watershed and poisons that kill the surrounding wildlife and divert water sources. The Rangers remove [sic] bags of trash, left over fertilizer and poison and the many hundreds of feet of irrigation tubing that crisscross the area.
As marijuana legalization spreads throughout the nation, studies have begun shedding light on the industry's potentially harmful effects on the environment.
Anthony Silvaggio, an environmental sociologist with Humboldt State University's Institute for Interdisciplinary Marijuana Research, made a Google Earth video demonstrating how illegal marijuana farms were destroying forests in Northern California's Humboldt County.
"We have an unregulated industry here causing ... ecological harm," Silvaggio says in the video.
WATCH:
Destructive farming practices could also have a direct effect on marijuana users too, in the form of harmful chemicals and pesticides that may remain on the plants after harvest. There is, however, very little information on how widespread pesticide use is, as marijuana growing remains largely unregulated.