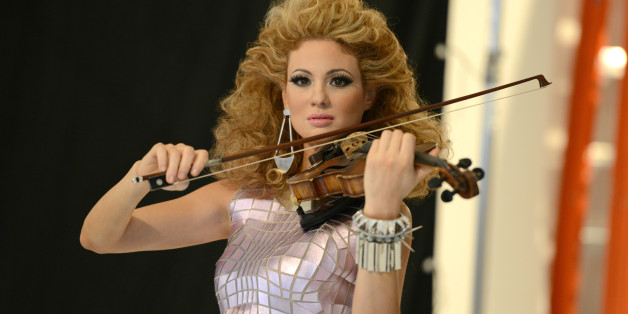 How many violinists can say they've collaborated with Jay Z and Kanye West, performed for Michelle and Barack Obama, and starred in ads for Harman Kardon? Probably just one: Grammy-winner Miri Ben-Ari. The violinist, originally from Israel, has made a name for herself as a classically trained performer with a track record in practically every other musical genre: jazz, r&b, hip hop, even electronica. HuffPost spoke with Ben-Ari about her chameleonic career.

The Huffington Post: Your career hasn't stayed put in any one tradition. How did you decide to branch out from your early training?
Miri Ben-Ari: The violin -- although it fits classical music amazingly -- doesn't necessarily need classical music. It's just a voice. When I listened to jazz when I was still in Israel, I felt that it was a very unique use of instrumental music, with a different language. I moved to the U.S. to study jazz, knowing that if I learned how to improvise music I'd be able to write my own original music. There are enough violinists in the world who can play the Bach, the Beethoven, the Brahms.
HP: How would you describe your style?
MBA: It's a fusion of many many styles, and my experiences from growing up in the Middle East and being from Israel. But it's funny, even when I started jazz here in the U.S., when I composed my own music, it came out as soulful R&B music. Almost like I grew up playing it at church.
HP: Did you feel a kinship with artists of other backgrounds?
MBA: Kenny G would be the artist I most relate to. He's a Jewish musician like myself, and he makes his saxophone sound so soulful and not white. I've been hearing the same thing over and over, when people listen, they go, 'OK, so you're black. You sound black.'
HP: What does that distinction mean to you?
MBA: I really don't know. It's funny because I work with Kenny G, and we both laugh about that. 'Do you believe in reincarnation?' Because I don't get it too. How do I know what to play? How to play? Why do I sound like someone who grew up playing gospel music?
HP: Did you have any idea growing up that your sensibility would be so in demand?
MBA: I could have never really envisioned how it went down. I didn't envision myself, for example, performing at the White House and being honored by the First Lady Michelle Obama. Some moments in my life come as a surprise.
HP: You played one of your own compositions, selected by Michelle -- the Symphony of Brotherhood featuring a recording of Martin Luther King's "I Have A Dream" speech. What drew you to that piece of American history?
MBA: I am a third-generation Holocaust survivor. My grandparents escaped Poland, but their family was murdered. I was the only child in the family that ever heard the story. It's something I've been carrying. This whole subject of racism, it's very close to me.
MBA: When I was in Atlanta more than ten years ago, I went to the lunch counter and it blew my mind. I wasn't very familiar with black history. [In Israel,] we had one page in the history book. When I saw what they had gone through, I felt that the world is so small. People suffer all over. When I heard that part of the [King] speech -- I have a dream -- I felt that I had to include it in one of my songs, and make almost a soundtrack to his words. I was so touched.
HP: How does one go about obtaining rights to what must be a very protected recording?
MBA: It's very difficult, basically impossible. My attorney at the time said, 'There's no way. You're not clearing that. No one has and no one does.' But the people who own the rights cleared it pretty much after hearing the song once. They felt the speech was represented in the right way.
HP: What's next for you?
MBA: I'm recording a solo album and a duet album with Kenny G. I'm also working with the trance artist Armin van Buuren. I play on the title track of his new album ["Intense"]. The programming in this genre is ridiculously difficult and complicated. It's not like jazz. I recorded my third jazz album live -- a 50-minute album, and it took 50 minutes to record it. You press record and that's it. Here, you work on one song for hours sometimes.
But it's so much fun. That collaboration opened up a whole new audience for me. People from all over the world tweet to me. It just shows you, when it comes to music, there are no boundaries.