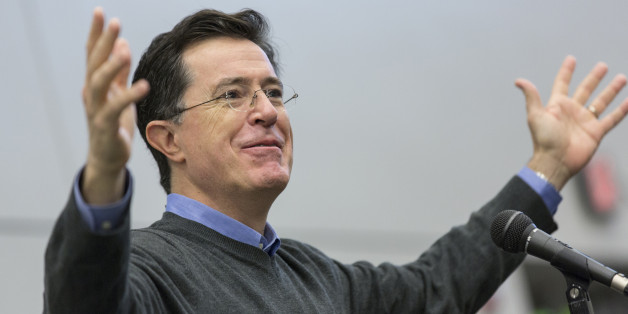 In a rare candid interview on "The Paul Mecurio Show," Stephen Colbert had an extensive discussion about his career and philosophies on comedy. The most notable part about the interview, however, was an lengthy, behind-the-scenes explanation of what happened with the now-infamous Daft Punk cancellation fiasco last week.
Colbert has been acquainted with the podcast's host, comedian Paul Mecurio, for years -- the two were on the writing staff of "The Daily Show" together in the dawn of the Jon Stewart era. Currently, Mecurio is the warm-up comedian for the "Colbert Report" studio audience. Fittingly, Mecurio conducted a comfortable interview with the late night host, in which Colbert spent about 20 minutes discussing exactly what happened with Daft Punk. If what Colbert says is true, then all doubts put forth by Pitchfork and others questioning whether the whole thing was a publicity stunt should be put to rest.
A rundown of what happened, according to Colbert:
1. Daft Punk were offered to the show... with the stipulation that they don't speak. (The French duo rarely do television appearances, so they had the ability to ask for demands.) Colbert's original idea was to do a six minute monologue in which he would ask them broad, journalistic questions to which they don't respond.
2. He then found out that Daft Punk also refused to perform their hit "Get Lucky." But he welcomed the challenge: "A change is as good as a holiday. I have to figure out a way to do that, and not X, Y and Z? That sounds fun," he said.
3. Since Colbert had a sponsor to appease, they decided to produce a video featuring celebrity cameos dancing to the song to try to convince Daft Punk to perform (which they would decline to do). The show booked Robin Thicke to perform "Blurred Lines" in order to satisfy the sponsor's demand for a musical performance.
4. Colbert received word that Thicke was booked on the MTV Video Music Awards, and they had an exclusivity contract that prevented him from performing on another show. However, MTV lifted the exclusivity so he could perform on "Colbert."
5. Daft Punk was unhappy with the script penned by the "Colbert" writers, which they found too negative. But after many conversations between the Colbert and Daft Punk camps, they found an agreeable solution.
6. Two days before the Daft Punk show, Colbert received word that Daft Punk also had a VMA exclusivity arrangement. However, he was confident that it would be worked out (as Robin Thicke had), so he flew them from Paris to New York for the show.
7. One day before the episode, in early afternoon, Colbert found out that MTV and Comedy Central had not been able to reach an agreement, and Daft Punk would have to cancel after all. They quickly retrofitted the celebrity video they had prepared with a different context than was originally produced.
Colbert said that he still was unsure why exactly the cancelation occurred. "MTV says they had an exclusive arrangement, Daft Punk says they don't have an exclusive arrangement," he told Mecurio. This corresponds with MTV's official statement, which was that the cancelation was the choice of the band, not the network.
He was also clear that despite his disagreement with MTV's push to keep Daft Punk off "Colbert," it was nothing personal against MTV Networks president Van Toffler, who he mocked on his show. "I don't know Mr. Tofler. I have friends who know him, and they say he's a great guy. And I believe them." While in character, he was left with no choice but to lash out. "My character can't ever lose," he said. "He has to throw a tantrum."
In fact, the intra-corporate politics between Comedy Central and MTV (both are owned by Viacom) was not much of an issue, Colbert insisted. He said that executives at Comedy Central see his scripts every day and only rarely ask him to make changes.
The interview is certainly an interesting listen. Clocking in at under an hour, Colbert also discusses his early days working in television on "The Dana Carvey Show" amongside other future luminaries like Steve Carell and Louis C.K., as well as what lines he won't cross when making fun of religion and how "The Colbert Report" came to be.
Listen to the full interview below. The Daft Punk portion starts at around 24:30.
BEFORE YOU GO
PHOTO GALLERY
Stephen Colbert GIFs