The drone industry is trying to steer a wary public away from using the word "drone" in talking about its wares, concerned it's scary and suggests too much violence -- sort of an ironic concern when one booth at this week's unmanned vehicle industry expo, displaying models of sleek-looking missiles, was giving away grenade-shaped stress balls that rattle upon the pulling of a string.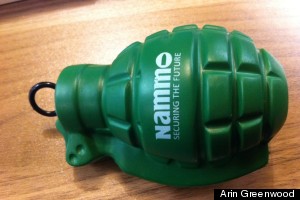 "The average person on the street, and even intelligent and informed people, when they think of the word 'drone,' they think of the military, they think hostile, they think weaponized, they think large and they think autonomous," Michael Toscano, president of the Association for Unmanned Vehicle Systems, told Breaking Defense.
And no, we didn't expect to encounter a lot of heartwarming things at the 2013 Unmanned Systems conference in Washington. But then we found retired carpenter Charles Trojahn and his grandson, 16-year-old Dustin Rapach, who hopes to be an electrical engineer some day.
It's not entirely clear this pair belonged. For one big thing, the hovercraft they brought from Somerset, N.J., is not unmanned. It's got a chair on top of it, and, according to the display photos, a person sits on the chair to operate the vehicle.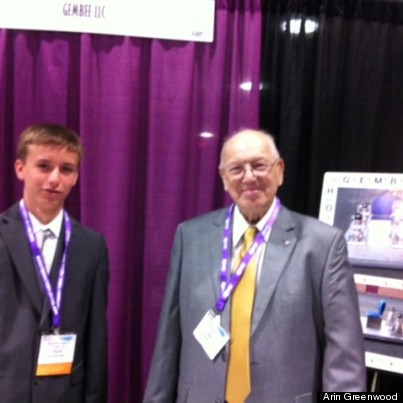 But never mind that for now. Grandfather and grandson, after many hours in a 300-square-foot home lab, were at the convention, excited to talk about the (manned) vehicle that could, Trojahn explained, help out on, say, flood rescue missions, reaching places that helicopters or trucks couldn't easily go. Or, he suggested, their vehicle might be employed toward more recreational purposes -- something like hovercraft soccer.
"Who knows?" asked Trojahn. "You know how we dream."
Those working the booth promoting Virginia and New Jersey had another dream. They want the Federal Aviation Administration to approve the states as among the six to be designated drone test sites, which boosters say will improve the local economy and privacy aficionados say will have more deleterious effects.
"We just have to wait for the feds to make the decision," said a Virginia representative, pulling out a souvenir packet of Old Dominion-branded gourmet salted peanuts.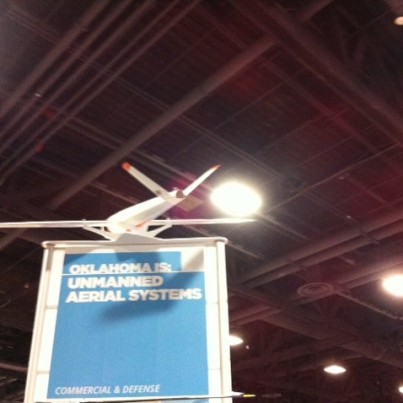 Oklahoma, too, is working to build its drone industry.
Boeing was giving away literature about a hydrogen-powered drone ominously called the "Phantom Eye," a "high altitude, long endurance Unmanned Air Vehicle (UAV) with a 270 nm sensing line-of-sight, at 65,000 feet for up to 10 days without refueling." Spokeswoman Karen Fincutter said Phantom Eye is still just a "demonstration aircraft" and declined to provide pricing information, explaining that Boeing is "waiting for the right customer with the right project" to actually put this plane on the market.
Meanwhile Climatronics, a company that specializes in weather monitoring instruments, held a drone giveaway for those who put their business card in a bowl -- a small one "that you can drive with an app on your smartphone," said vice president Dave Gilmore.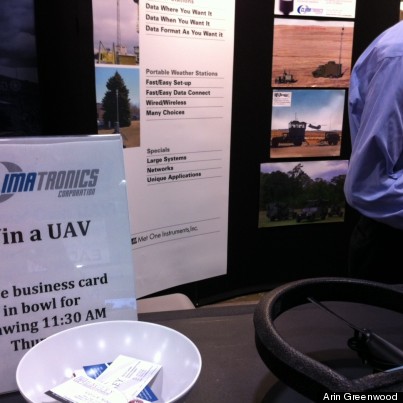 The placard announcing the drone giveaway uses the preferred term "UAV" instead of "drone."
The men and women staffing the Dreamhammer booth gave away lollipops, and looked like they are out of "The Matrix" in all-black and silver getups. Chief operating Officer Denis Clements explained that the Los Angeles-based company makes operating systems for drones -- think Windows, but for unmanned aircraft.
Clements said he's seeing the drone industry "transition from all-military on a relatively small scale to international and commercial on a large scale." In other words, the industry is getting bigger, and increasing sales to civilians. (The drone trade association, the Association for Unmanned Vehicle Systems International, estimates that the industry will be worth worth $82 billion and employ 100,000 people by 2025.)
Lots of people are very concerned about losing privacy. Clements said he doesn't get why.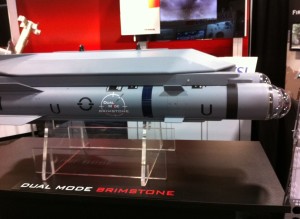 Nothing scary about a missile called Brimstone!
"I really don't understand the emotions" about drones, Clements said, as the company's CEO, Nelson Paez, walked over, sucking on one of the red candies. "There's a certain amount of surveillance I take as a way of life. ... The emotional thing is somebody's looking over our fence. They already are, baby. They already are. Get used to it."
Privacy and flying cars are exciting to think about, yes. But if this industry is growing, it's going to need more of the least sexy product you can think of.
"No one's going to let you fly a drone somewhere without insurance," said Grant Goldsmith of Overwatch, a company that bills itself in marketing materials as providing "the most comprehensive Drone Operator Coverage and Drone Manufacturing Coverage available in the market."
Goldsmith said Overwatch has written about 25 drone insurance policies in the U.S., and is one of just two or three companies selling this type of insurance.
"This industry is new," Goldsmith said. "Five years from now, there'll be 10 insurance companies in here. We don't trust each other. That's why insurance exists."
Something else that exists: drone bulldozers. Janette Brown, a proposal development manager for TORC Robotics, showed one, and talked about using unmanned vehicles for mining and agriculture.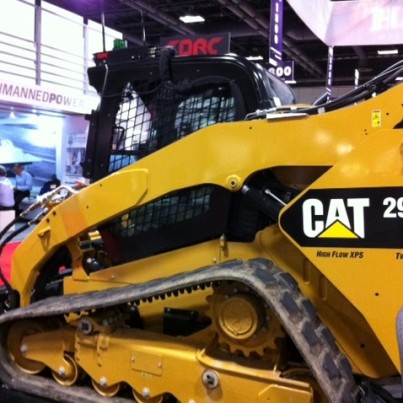 "If you can automate that vehicle, you've now freed up a thinking individual to do a much more complex task," Brown said, but not much more. For the last two months, she said, she's been working on "a lot of things I can't talk about."
iRobot's Jonathan Lesser can talk about robots that can dispose of bombs, examine suspicious packages or participate in medical procedures -- uses that he said will increase because the robots, being developed to have more manual skills, and more autonomy, "can perform more tasks to keep a user safe."
Obviously, he's in the robot business, so he's not going to publicly obsess about the most dystopian scenarios (see, e.g., "2001: A Space Odyssey;" see also, more recently, a U.N. expert's warnings against "killer robots"' use in war).
Lesser's company also makes the much-loved Roomba robot vacuum cleaner. And so for all the concerns about the mischievous and aggressive uses of unmanned vehicle technology, both in and out of the hands of the government, Lesser said he thinks we will soon be voluntarily inviting more of these devices -- call them drones, robots, UAVs or some adorable-sounding product name -- into our homes.
"Are there things around the house you don't want to do?" he said. "Then yes."
BEFORE YOU GO
PHOTO GALLERY
UFO Encounters