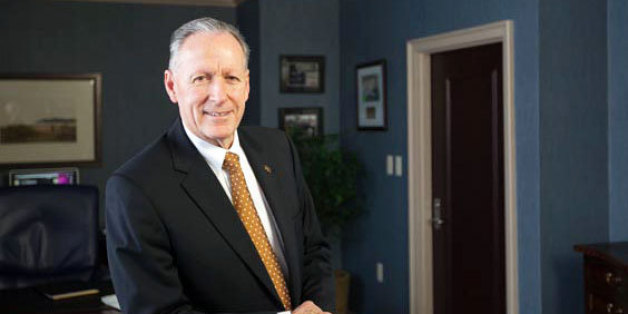 Much attention has been payed to off-the-charts salaries for some presidents of public universities. But this president is taking home six figures ... after he resigned.
After serving as president of Oakland University in a northern Detroit suburb for 18 years, Gary Russi resigned, effective Aug. 1. The Detroit Free Press reports he's taking home nearly $230,000 in deferred compensation from prior years. With other benefits, unused vacation pay and his June and July monthly salary, he'll be receiving over $330,000, paid out in two lump sums.
According to the paper, the retirement package was unanimously approved by the Board of Trustees Monday without comment -- despite a clause in Russi's contract barring deferred compensation payment if he left before June 2014.
What else is in Russi's retirement package? Two computers, a printer and an iPad, according to the Oakland Press.
Not all students appear to be happy with Russi's six-figure perk:
If Oakland University is paying Gary Russi $233k to hit the bricks forever, then they might as well pay off my student loan.

— jacob (@eyemDOPE) August 13, 2013
Russi's annual salary was approximately $357,000. He announced his retirement in June on the same day that the university fired his wife Beckie Francis, who was also OU's women's basketball coach.
Francis was fired with cause and the university hasn't given further explanation, according to the Oakland Press. But in July, reports came out of Francis' treatment of players on the Golden Grizzlies, an NCAA Division 1 team.
Women told the Detroit Free Press stories of a coach who played "head games" and made shocking demands of her players when it came to religion, chastity, weight and eating habits. Some were fearful to say anything because Francis was married to the university president.
In two tweets last month, Francis wrote: "Even though it's tempting to comment on allegations about me, out of respect for the privacy of the student-athletes and others, I will ... continue to focus my energies on future endeavors and on making a difference. I wish Oakland University the best."
It has not been a quiet year for OU. A student who was suspended after writing an explicit essay entitled "Hot for Teacher" that made it clear he was just that sued the school. A judge dismissed the lawsuit last month, saying the student didn't have the right to express his attraction to his teacher.
In November, the school suffered an embarrassment when the emergency alert system was being tested and accidentally sent a voicemail to community members with a warning of "shots fired."
While Russi's retirement package might raise some eyebrows, it's nothing compared to the pay grades of the highest-paid public university presidents, a few who also see six-figure checks ... every single month.
PHOTO GALLERY
The Highest Paid Public College Presidents In 2011-12 -- Chronicle Of Higher Education Data