"Grey's Anatomy" fans, we know it's been an emotional week with the Sandra Oh announcement, but there's finally some good news!
Note: Do not read on if you do not want to be spoiled for "Grey's Anatomy" Season 10.
Creator Shonda Rhimes tweeted a photo from the table read of the "Grey's Anatomy" 200th episode and look who's pictured on the far right: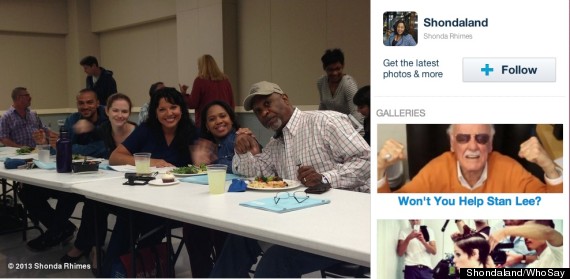 That's right -- Dr. Webber (James Pickens Jr.) lives!
Season 9 of "Grey's Anatomy" ended with quite the cliffhanger for the character, who's been on the ABC medical drama since the beginning. After Dr. Webber got into an argument with Dr. Bailey (Chandra Wilson) -- who's happily waving to the left of Pickens Jr. in the photo above -- she realized she needed to apologize to her longtime mentor and friend. But "Grey's Anatomy" fans were led to believe she might be too late: The Season 9 finale ended with Dr. Webber unconscious in the flooded basement of the hospital, electrocuted after the power came back on in the wake of the superstorm that infiltrated Season 9's final episodes.
"Hopefully that's not going to happen, but we don't know," McKidd told TV Guide about Richard's possible death in May. "If there's a chance to save Richard, you're going to have every doctor at Grey Sloan Memorial clamoring over each other to get in that OR to save him."
Rhimes had been tight-lipped about Webber's fate, but in May, the showrunner did tell EW that we "will see Jim Pickens again." Of course, viewers knew that didn't mean he'd necessarily be alive and if he was, it could've been a flashback.
After realizing that she'd tweeted a spoiler with the photo, Rhimes sent out the following message: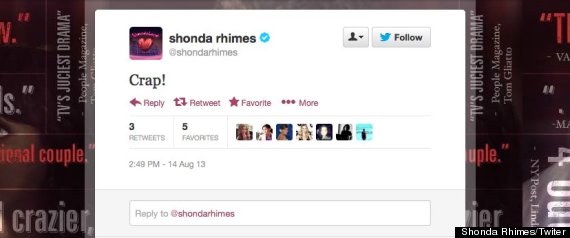 Both that tweet and the photo have since been deleted, but Rhimes' regret over the tweets would seemingly indicate that Webber does survive in Season 10. That won't be surprising to investigative "Grey's" fans who know that Pickens Jr. -- along with stars Ellen Pompeo, Patrick Dempsey, Justin Chambers and the now departing Sandra Oh -- re-upped his contract for two more seasons after Season 8.
The 200th episode of "Grey's Anatomy" will be coming up early in Season 10 and Rhimes said it's going to be a big one. "I don't know how many shows have gotten to 200 episodes; it's really rare," she told The Hollywood Reporter. "One of the things I want to do in our 200th is show how our interns have grown up; 200 episodes later, they're all badass surgeons, which is really huge. It's also just about remembering how great everybody is. I like to have people in black-tie, because that's always nice. We have a story that we're telling that I feel really good about. I feel excited about it. It feels momentous for us."
The "Grey's Anatomy" Season 10 two-hour premiere airs on Thursday, September 26 at 9 p.m. ET on ABC.
PHOTO GALLERY
Fall TV 2013 In Production