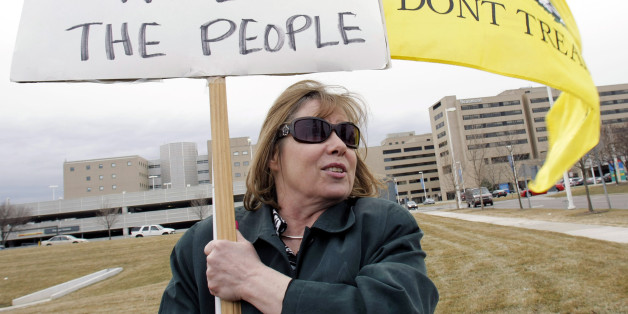 Guess who's back? Not just Eminem, but Michigan's own Janice Daniels.
The former mayor isn't letting a highly publicized recall, criticism of her policies or a past tendency to mistakenly make anti-gay remarks in public as she's trying to apologize for past slurs stop her political aspirations. She's now filed to run for City Council, which has three open seats and a likely 11 candidates vying for the spots, according to Troy Patch.
Daniels ran the city of Troy, a northern Detroit suburb, for just a year before she was recalled in November with 52 percent of the vote. Her first offense came shortly after she was elected in 2011, when a Facebook post she had written before the election surfaced.
"I think I am going to throw away my I Love New York carrying bag now that queers can get married there," it read.
Not long after, she met with members of Troy High School's Gay-Straight Alliance to address concerns about the Facebook post. During the meeting, she offended several high schoolers who believed she suggested homosexuality is dangerous to one's mental health. Afterwards, Daniels told the Detroit Free Press her statements were misrepresented.
Last June, when the recall campaign was gathering steam, Daniels drew more criticism for comments on a radio show comparing the dangers of the "homosexual lifestyle" to smoking cigarettes.
Though Daniels' anti-gay comments were the most incendiary, local residents were also unhappy with her decision to not allow a transit center to be built -- a project that came with significant federal funding. Others were concerned that she didn't appear to get along with other officials. Verbally attacking a city employee in a public statement was one of the reasons listed as grounds for her recall. She also came under fire for publicly criticizing a former City Council member during an official meeting -- while she was supposed to be honoring her with an award.
Daniels filed her petitions in order to be considered a candidate for the Nov. 5 election with 75 signatures. According to the Oakland Press, a candidate needs 60 to be eligible.
Daniels' choice to run is surprising after statements she made to the Detroit Free Press after her recall.
"I'm going to have a great burden lifted off of my shoulders because I won't be faced with this relentless, merciless, vicious, unwarranted attacks on my person that would have probably gone on for the next three years had I won the election, so it's probably for the best," she said.
BEFORE YOU GO
PHOTO GALLERY
Outrageous Homophobic Statements