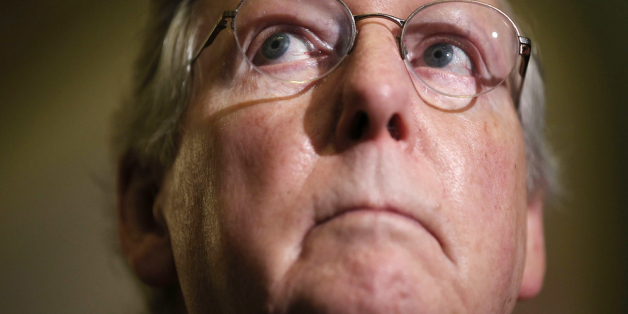 Less than a month after Tea Party favorite Matthew Bevin announced his plans to run against Sen. Mitch McConnell (R-Ky.), the battle between the two continues to grow.
The Associated Press reported Wednesday that McConnell attacked Bevin in a new mailer, calling him a "snake oil" salesman.
The Bevin and McConnell camps had edgy moments from the get-go. Days before Bevin officially announced his Senate intentions, McConnell campaign manager Jesse Benton issued a statement calling him an "East Coast con man."
"While it is sad to see someone who claims to be a Republican doing Barack Obama's bidding, his campaign is nothing more than a nuisance," Benton said. "Mitch McConnell will never waiver in his fight for our Kentucky values."
Bevin fired back at his early August Fancy Farm appearance -- a big Kentucky political picnic -- vowing that "the people of Kentucky have had enough" of McConnell.
"I'm not going to run to the left of Mitch McConnell," Bevin said. "I'm not going to run to the right of Mitch McConnell. I am going to run right over the top of Mitch McConnell."
In addition to Bevin, McConnell faces a serious challenge from the Democratic side in Secretary of State Alison Lundergan Grimes. An early August poll from the Democratic firm Public Policy Polling held troubling signs for McConnell, with Grimes holding a 45-to-44 percent edge.
UPDATE (12:12 p.m. ET): Bevin Communications Director Sarah Durand responded to McConnell's latest hit Wednesday afternoon via email.
"Fact checkers have already called this attack false. Mitch McConnell wants to mislead the public with this story in classic McConnell mud slinging style. McConnell will use whatever tactics are necessary to avoid talking about his record of voting for amnesty, debt ceiling increases, bailouts, and bigger government. Kentucky voters are tired of this. We deserve a Senator who will be honest with us, and who will truly represent our interests, and that's why Matt Bevin is running."
BEFORE YOU GO
PHOTO GALLERY
Say Cheese! Mitch McConnell Smiles