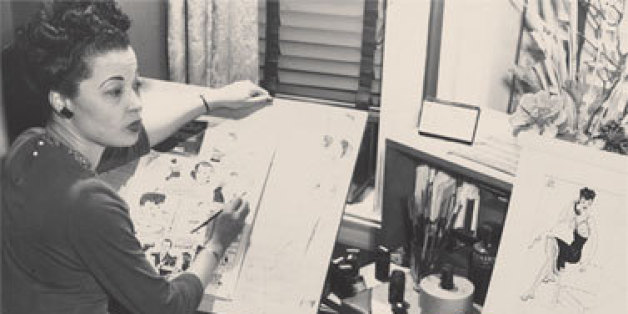 Patty-Jo 'n' Ginger ran in the Pittsburgh Courier, an African-American newspaper that enjoyed a circulation far beyond Pittsburgh, reaching 358,000 households nationwide at its peak. Patty-Jo appeared weekly for 11 years straight, from 1945 to 1956.
Ormes, recognized as the first female African-American cartoonist, drew Ginger as a beautiful, fashion-forward pin-up girl and Patty-Jo as a savvy child. This was imagery explicitly designed to counteract racist visions of black women and girls as uneducated, subservient mammies and pickaninnies. (A Patty-Jo doll, manufactured between 1947 and 1949, was one of the first "positive" African-American dolls produced in the U.S.)
A spiritual ancestor of the radical Huey Freeman of the comic strip Boondocks, Patty-Jo always got straight to the politics of the situation. Through Patty-Jo, Ormes addressed many of the major social problems of the postwar U.S.--the nuclear arms race, civil rights, poverty, McCarthyism--with surprising candor.