Pharrell Williams is leading the dance music revolution with the robots themselves. The prolific producer teamed up with the famed French duo known as Daft Punk to work on the group's comeback album, "Random Access Memories."
Daft Punk's fourth studio album is led by the hit single "Get Lucky," a collaboration with Williams. The song-of-the-summer contender took off quickly, selling more than one million copies. Made up of industry vets Thomas Bangalter and Guy-Manuel de Homem-Christo, Daft Punk covers the latest issue of Vibe with Williams.
Williams reflected on the first time that he ever heard Daft Punk, telling the publication, "I'll never forget. I was talking to this girl, and all of a sudden I heard a song and was like, 'What the f--k is that?' Because it just seemed like something regal, something very royal and different, from a higher caliber. When that guy sang 'One More Time,' I was like, 'What the?!' And then it was everywhere. Like, I heard it in cars in the hood."
"From that point I was in love with the sound and the groove," Williams added. "Isn't that the most amazing feeling when we hear something and ask, 'What is it?'"
Daft Punk has now released the next single off of "Random Access Memories," another collaboration with Williams. Called "Lose Yourself to Dance," the song made its official debut as a single this week.
"'Lose Yourself to Dance' makes me feel like walking down the street in the middle of the night in London and it's 1984, 1985," Williams explained. "I don't hear '70s in that at all. For me, it doesn't sound at all like a Bowie record, but I feel like David Bowie would have loved that record. He could actually sing it."
"We're trying to define -- or redefine -- what dance floor music can be," Bangalter added. "Whether it's something lighter or something more primer. 'Lose Yourself to Dance' is almost this idea of a timeless place or dance floor where you can lose yourself. The idea of unity of the dance floor, people being connected."
For more, head over to VIBE, but not before checking out this exclusive photo of Pharrell: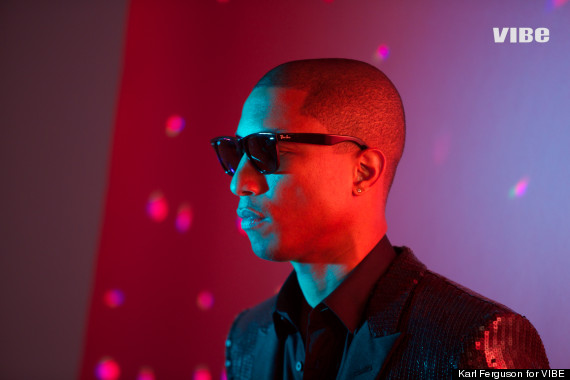 PHOTO GALLERY
Daft Punk Frenzy
BEFORE YOU GO