During his first public appearance since becoming a royal dad, Prince William shared a heartwarming moment with one of his most adoring fans.
While bidding farewell to Anglesey -- the home he and Kate shared while the prince worked for the RAF search and rescue squad, Prince William offered some intimate details about baby George (he's "very good looking") and chatted with a number of locals. But the highlight of the afternoon was when William shared a particularly special exchange with a teenager whom he saved a year ago.
After her sister got caught in a riptide while swimming off the coast of Anglesey, Sharon West swam out to help save her struggling sibling, but then became distressed herself, according to the Telegraph. William's team was called out to help and managed to pull West to safety in under 40 seconds, their fastest rescue ever, William told Channel 5. West's younger sister made it to shore on her own.
On Wednesday, West finally got to personally thank the hero who saved her life.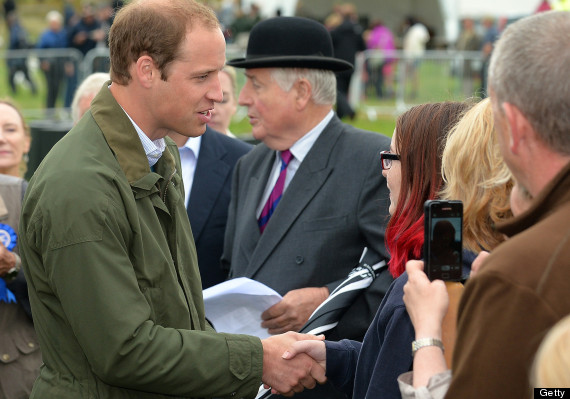 William appeared to be just as grateful to have had the chance to talk.
"I'm glad you made a full recovery," he told the appreciative teen. "A lot of time you never meet up with anyone after you've done it."
Though the new dad kept the exchange light, in the wake of the rescue last year, the prince shared just how precarious of a situation it was.
"We never know what we'll face when we're called out," he told the BBC last year. "Sometimes it's just a twisted ankle or a broken bone, but this was one rescue where we truly did arrive in the nick of time and managed to save two young lives.
West reiterated her appreciation for William's bravery to Channel 5 after she had the opportunity to properly thank him.

"He rescued me when I got swept out to sea," West told the news outlet. "If he'd been a few seconds later I wouldn't be here today."
BEFORE YOU GO
PHOTO GALLERY
Royal Birth Announcement