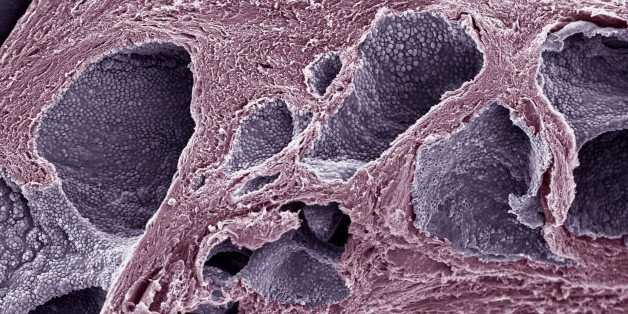 The aggressiveness of a prostate cancer tumor -- meaning how fast it's growing, and how much it's grown -- might not change with time, at least for some men, according to a new study.
The findings add weight to the "active surveillance" route some patients choose to take, where their prostate cancer tumors are monitored over time to ensure they don't grow or spread -- but no treatment is actually administered.
Men who have a low-grade tumor -- where the cells on the tumor still look more like normal prostate tissue -- may talk with their doctor and opt for active surveillance by following up with the "tumor over time and seeing what happens. We think the results [of this study] can make men feel more comfortable with the decision that they have made," study researcher Kathryn Penney, Sc.D., an instructor in medicine at Harvard Medical School and associate epidemiologist at the Channing Division of Network Medicine at Brigham and Women's Hospital, told HuffPost.
The study, published in the journal Cancer Research, involved analysis of prostate tissue from 420 people who were part of the Physicians' Health Study and 787 people who were part of the Health Professionals Follow-Up Study. All of the people in the study had been diagnosed with prostate cancer sometime between 1982 and 2004, and had their disease treated with surgery.
Researchers divided up the study participants' data into four time periods within 1982 to 2004; they did this in order to capture the increases in prostate-specific antigen (PSA) testing throughout time (for instance, PSA testing for prostate cancer increased from 42 percent to 81 percent between 1994 and 2000).
"Over time, because of PSA screening, men have been more likely to be diagnosed with prostate cancer at an earlier stage, before the disease has had an opportunity to grow and spread. If Gleason grade also progressed over time, we would expect a similar decrease in high Gleason grade disease over time," Penney said in a statement.
Researchers found that over that time period, the proportion of people diagnosed with advanced-stage prostate cancer decreased from 19.9 percent from 1982-1993 to 3 percent in 2000-2004. (Cancer stages refer specifically to how much a tumor has spread, and if it has spread outside of the prostate to other parts of the body.)
However, over that same time period, they didn't find a huge drop in the proportion of prostate cancer patients diagnosed with high-grade tumors, with the percentage only decreasing from 25.3 percent in 1982-1993 to 17.6 percent in 2000-2004. (Tumor grades, or Gleason grades, are indicative of the aggressiveness of a prostate cancer tumor. They are determined by looking at an actual sample of the tumor, either after a biopsy, or after a radical prostatectomy, where the prostate is removed.)
"We were surprised by just how constant the incidence of high-grade disease has been over time," Penney said in the statement.
BEFORE YOU GO
PHOTO GALLERY
10 Biggest Prostate Cancer Findings So Far