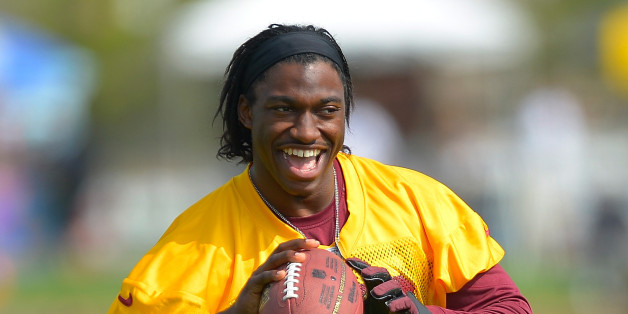 Washington Redskins quarterback Robert Griffin III has a message for closeted gay players in the NFL: "If they're looking for a window to just come out, I mean, now is the window."
Griffin made the comment during an interview with GQ magazine, whose cover the star quarterback appears on this month. Asked about the "growing sense" that the NFL would soon see its first openly gay player, Griffin voiced support for such a breakthrough.
Yeah, man. I think there are [gay players] right now, and if they're looking for a window to just come out, I mean, now is the window. My view on it is, yes, I am a Christian, but to each his own. You do what you want to do. If some Christians want to look at being gay as a sin, then thinking about other women, committing adultery—or any of those other sins that are in the Bible—those are sins, too. And God looks at all of us the same way.
Speculation mounted earlier this year that the NFL might soon feature openly gay athletes, after former Baltimore Raven Branden Ayanbadejo suggested that as many as four players were in talks to come out of the closet. Ayanbadejo later backtracked his remarks.
In April, NBA free agent Jason Collins became the first openly gay athlete active in one North America's four major professional sports leagues. Many wondered at the time when an NFL player would follow suit.
The breakthrough wouldn't come a moment too soon for the NFL. The league found itself at the center of controversy earlier this year when multiple players voiced their opposition to the idea of openly gay players. Since then, several other NFLers, including New England Patriots star Rob Gronkowski, have expressed support for gay athletes. Nevertheless, the league has faced substantial scrutiny for what many see as an anti-gay bias.
Talking to the NFL Network in May, commissioner Roger Goodell dismissed that reputation, insisting that the first openly gay athlete would be embraced for his decision.
"I have such great respect for our players," Goodell said. "I don't think it will just be tolerated, I think it will be accepted. These are individuals who play in our league. We're all different in some fashion, and we're accepting of our differences."
BEFORE YOU GO
PHOTO GALLERY
2012 NFL Season Highlights