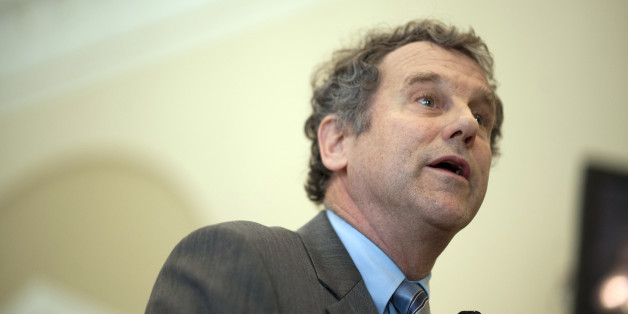 DAYTON -- Larry G. Kinsler served two tours of duty in Vietnam, then came home and fought a battle of paperwork and patience with the Department of Veterans Affairs.
Kinsler, 63, of Dayton, has three claims pending with the VA, the oldest of which dates to 2006.
"My family and I have suffered tremendously, financially and physically and we just ask the VA to get it right and soon," said Kinsler. He suffers from a long list of ailments, from traumatic brain injury and post traumatic stress disorder to sleep disturbances and hearing loss, he said. He receives some VA benefits, but has tried to claim additional compensation.
U.S. Sen. Sherrod Brown, D-Ohio, highlighted the Marine Corps and Army veteran's case in a press conference and roundtable Tuesday at the Montgomery County Veterans Service Commission. Brown, who serves on the Senate Veterans Affairs Committee, called on the VA to train more people to process a claims backlog and reach out to returning veterans to alert them to benefits they may be entitled to claim.
"We have seen some progress in eliminating the backlog," Brown said. But the number of claims has continued to soar. In 2009, the federal agency received 2.7 million claims and in 2012, more than 4 million, VA figures show.
The VA reported 489,387 claims pending for more than 125 days as of Aug. 10. The agency had 774,816 claims in total at the same time. Claims took an average of 218.7 days to complete. Ohio had 17,180 claims in the backlog among 23,789 in total, the VA reported.
Veterans have staked more claims because of both an expansion of benefit eligibility for exposure to Agent Orange in the Vietnam war, and an influx of veterans home from conflicts in Iraq and Afghanistan, Brown said.
"Those filings are cascading in, so those numbers have continued to climb and will climb for some time," he said. "... The VA has hired more people and trained more people as a result, but the problem still lingers with the backlog."
Craig Larson, a VA spokesman in Chicago, declined to comment directly on Brown's statements. However, Larson emailed a response that outlined how the VA has tackled the backlog.
The federal agency has launched a paperless, digital disability claims system in 56 regional offices, including Cleveland, with a goal to complete all claims with 98 percent accuracy by the end of 2015. The VA has started to convert paper documents into digital files, improved employee training, and collaborated with the Department of Defense on the electronic transfer of service medical records.
"Fixing this decades-old problem isn't easy, but we have an aggressive plan to ensure our veterans get the timely, quality benefits they need and deserve," the VA said.
Veterans services officers told Brown at the roundtable discussion "fully developed" or "ready to rate" claims were handled more quickly than in the past, but some frivolous claims have clogged the system, too.
Montgomery County Veterans Service Commission Director Herb Davis said veterans improve their chances for a successful claim when they approach his agency for help to fill out forms.
Thomas Hagel, commander of the Disabled American Veterans in Montgomery County, said technology that connects veterans to information and benefits could help ease the problem. "We're using a 19th century mentality to deal with a 21st century problem," he said. Hagel is the brother of Secretary of Defense Chuck Hagel.
Two bills in the Senate would hold the VA publicly accountable to report the time it takes to process claims versus its monthly goals, and offer help to veterans who file electronically for benefits, Brown said. ___
BEFORE YOU GO
PHOTO GALLERY
Unfortunate Politician Names