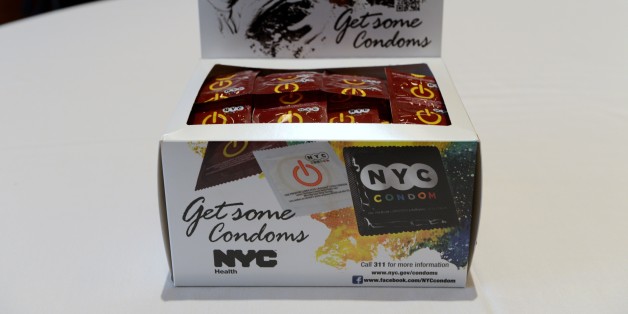 NEW YORK -- More jobs, lower taxes, affordable housing -- voters have heard those clichéd promises from New York mayoral candidates before. But how about better condoms?
City Council Speaker Christine Quinn said Wednesday night that if she becomes mayor "we will be improving the NYC condom," referring to the branded prophylactic distributed for free at some bars, clinics and pharmacies.
A revamped rubber is essential because she's heard a chorus of complaints, said Quinn, who's seeking the Democratic mayoral nomination.
"I was at an event recently with a large number of African-American gay men, and they told me there's a very pressing issue as it relates to New York City's HIV work," she told the audience at the Black Pride Heritage Awards in Harlem.
Complaints that condoms are only offered in one size and about the likelihood of them ripping came up most recently at an event in Brooklyn hosted by Dr. Neil Lowe, chairman of the Black AIDS Institute, Quinn's campaign said. A spokeswoman at the Gay Men's Health Crisis said they've heard complaints from some men who said the condoms are too small.
In 2012, the city distributed 35.5 million male condoms, according to the Department of Mental Health and Hygiene. They're produced by Lifestyles and packaged in a distinct NYC wrapper, but they are the same kind as lubricated Lifestyles sold in stores.
"They were dissatisfied with the quality of the NYC condom. So I want to tell you, we will be improving the NYC condom," Quinn said Thursday, to loud applause.
While some may believe that certain condom brands are more likely to rip than others, the FDA requires that every condom brand available to consumers is at least 99.6% effective in quality trials. Quinn's office didn't offer details on how exactly she'd improve the condoms.
Quinn, who is a lesbian, made several promises to the LGBT community in her remarks Wednesday night. She vowed to raise funding for shelters immediately so homeless teenagers won't sleep on the streets, demanded the passage of a civil rights bill for transgendered people and listed as a priority affordable housing exclusively for LGBT seniors.
"Other cities have LGBT senior housing, said Quinn. "We don't, but we will."
This story has been updated with a statement from the Gay Men's Health Crisis.