Advocates are up in arms over a taxi ad that features a young distraught woman hunched over and shivering in the rain as she clutches her thin dress to her chest.
Data Cars, a London private cab company, recently distributed 200,000 postcard-ads to homes in South London that portrayed said female pedestrian freezing in a downpour with the tag line, "Should Have Used Data Cars." The ad was met with outrage by advocates who say the girl possibly resembles a rape victim whose attack could've been prevented had she taken a taxi.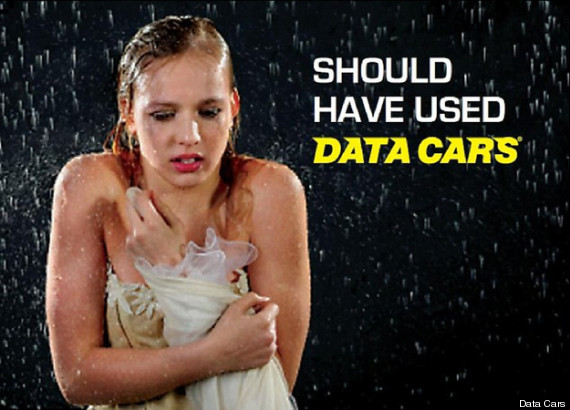 "The best case scenario, giving the company the benefit of the doubt, is that they're not aware of the associations that the image on this postcard conjures," Katie Russell, of advocacy group Rape Crisis, told the Drum. "The worst case scenario is that they've knowingly used scare-mongering, sexist and victim-blaming imagery and messaging in a cynical marketing ploy."
The company, however, has remained steadfast in its opinion that there is nothing offensive about the ad.
Data Cars manager, Les Chapman, told News Shopper that he was inspired to release such an ad after seeing his daughters return home one rainy night looking like "drowned rats." Chapman also noted that the innocuous message on the back of the card, which reads –- "You should look just as great coming home as you did going out, so don't gamble on the weather... get a Data Cars minicab" –- just further confirms the ad's message.
Despite Chapman's statement, and the company's willingness to engage in an intensive back-and-forth with its dissenters on Twitter, some remain unconvinced that the cab company only had decent intentions.
Many have taken specific issue with the fact the markings on the woman's arms look bruises that an attacker could have inflicted.
@datacars So the bruises on her arms were caused by rainfall?

— Dee Emm Elms (@d_m_elms) August 8, 2013
Others have defended what they see as a harmless marketing strategy.
@datacars @RebeccaWilshire I cannot believe the fuss created. Quite clearly a pic of someone wet through! Jeez!

— Ms Gray (@Bentwelly) August 13, 2013
One supporter took to her own personal blog, the Gender Bias, to share her support of the campaign and to vent about the damage she perceives rape advocates are causing in this instance.
Have we really let this narrative -- that "rape is everywhere and everybody is a potential victim" –- reach a point where people are getting postcards through their letter box and the first thing they see is rape?! This woman is caught out in the rain, holding her dress up, and looking in a bit of a poor state. It's dumbing down the meaning of "rape" into [the advocates'] own trivial and subjective perceptions of what rape is, and where it is represented. That will, ultimately, do more harm than good.
Do you find this ad offensive? Share your thoughts in the comments section below.
BEFORE YOU GO
PHOTO GALLERY
Notable Anti-Domestic Violence Campaigns