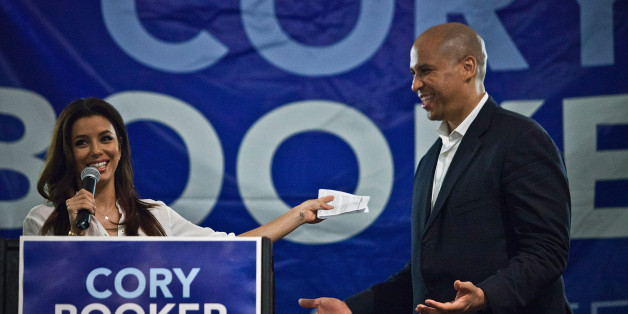 Eva Longoria has already chosen a new president.
The star and political activist has hopped on on the Cory Booker bandwagon. Booker, the Mayor of Newark, won the nomination for New Jersey's U.S. Democratic Senate seat on Tuesday. Longoria accompanied him on the campaign trail.
"I think he's going to be a future President of the United States. I just believe in him so much and his stance on everything," the former "Desperate Housewives" star told Extra.
Booker will now face Steve Lonegan, the Republican primary winner, in the race to succeed the late Senator Frank Lautenberg. The nominee is well known for his social media presence, especially on Twitter.
"He puts his phone number on Twitter so people can call him directly if there's a pipeline broken," said Longoria. "The way he's accessible to his constituents is really mind-blowing."
This is not the first time the celebrity is involved with politics. The actress publicly supported President Obama, helping him win the Latino vote in the 2012 election as co-chair for his fundraising committee. She has also supported many charities that deal with issues that concern Latinos like education, immigration reform and Latino art.
The Mexican-American star also got her Master's degree in Chicano Studies from California State University Northridge (CSUN) in May.
BEFORE YOU GO
PHOTO GALLERY
Eva Longoria's Accomplishments Through The Years