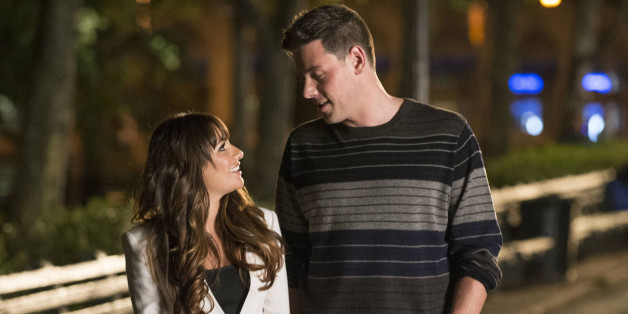 "Glee" may not ever reveal how Finn Hudson dies.
Co-creator Ryan Murphy told Deadline the show considered having Cory Monteith's character die from a drug overdose, like the actor, but ultimately decided against it.
"Basically, what we're doing in the episode is we are not telling you yet, or maybe not at all, how that character died," Murphy told Deadline. "The idea being, how somebody died is interesting and maybe morbid, but we say very early on in the episode, 'This episode is about a celebration of that character's life.' That might be weird for some people, but it felt really exploitative to do it any other way."
"Glee" returns with Season 5 on Thursday, Sept. 26 with a two-episode celebration of the music of The Beatles and Monteith's memorial episode will be the show's third of the season. Murphy told Deadline that the cast and crew has yet to shoot the episode, but he thinks it "turned out to be a lovely tribute, and it's a very heartfelt look at how young people grieve."
In an early interview, Murphy said he considered ending "Glee" after Monteith's death, but the actor's on-screen and off-screen girlfriend Lea Michele said to keep the show alive.
"If Lea had said to me, 'I could never do this again and I don't want to do this again,' you know, she is sort of the show, so what do you do? And I would've, out of respect to her as a person, said 'OK,' but that's not how Lea operates; that's not how she feels," Murphy told E! Online in July. "She's handled this with so much humanity and grace and she's also handled this in a way where she's trying to look out for 500 other people affected by him and who have mortgages to pay and families to feed. That was never on the table for her and I said, 'OK.' Nothing has been done and will be done in terms of any of the material without Lea blessing it and making sure it's OK with her -- and she has been."
Fox renewed "Glee" for Seasons 5 and 6 in May, and after that, the show will likely end, according to Fox boss Kevin Reilly.
"I would not anticipate it goes on," Reilly said, according to Give Me My Remote, when asked about the future of "Glee." "Never say never, but there's two very clear arcs to get to there and conclude. If we discover a new crop of kids and there's some breakout, who knows. But right now, it's being treated as two seasons [and then done]."
Original "Glee" star Chris Colfer said he's fine with it coming to an end. "Where would you go after a sixth season? I think six is a really good number and it's a good amount of time to spend with these characters," Colfer said during a recent appearance on HuffPost Live.
Check out Fox's memorial card for Monteith below and click over to Deadline for more from Murphy.
"Glee" returns on Thursday, Sept. 26 at 9 p.m. ET on Fox.
PHOTO GALLERY
Glee Episode Stills