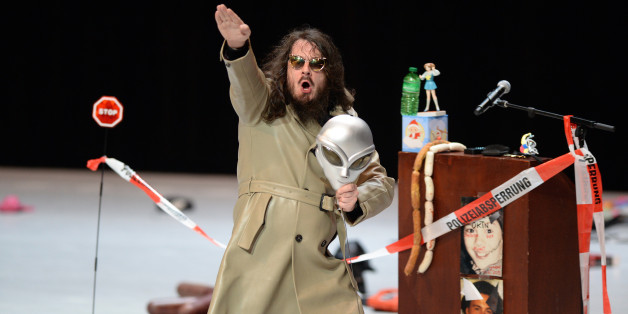 The Nazi salute, a gesture that was often used by Adolf Hitler, is outlawed in Germany, but that didn't stop one controversial artist from performing the hail on stage during an event at Kassel University last June. Now it seems a dispute over the performance has turned out it in the contemporary artist's favor.
Jonathan Meese was acquitted Wednesday after a German court ruled that his Hitler salute falls under the category of artistic expression.
"Art has triumphed," the 43-year-old artist said after the verdict was read, reports the Agence France-Presse. "Now I am free."
Meese, a painter, sculptor and performance artist based in Berlin, is known for his scandalous demonstrations. Earlier this year at the National Theatre in Mannheim, he shocked the audience by simulating oral sex on an alien doll adorned with a swastika. He also performed the Nazi salute several times throughout the show.
Prosecutors in Germany had sought to fine the artist 12,000 euros (nearly $16,000) for his offense, but Meese had argued that his onstage salute was a form of free speech. He also explained to the court that he often uses the Nazi salute and swastika in his works to mock the symbols, not give them more power.
"You don't have to like what Jonathan Meese did, but you should not punish him for it," Meese's lawyer Heide Sandkuhl said, according to Germany's The Local.
BEFORE YOU GO
PHOTO GALLERY
11 Shocking Acts by Artists