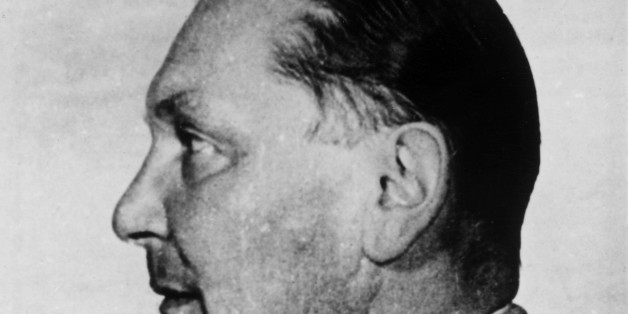 A car originally commissioned by Adolf Hitler's would-be successor is being restored for sale in South Florida.
Hermann Goering -- a Nazi Party leader, Commander of the Luftwaffe, President of the Reichstag, and Prime Minister of Prussia -- committed suicide in 1946 the night before he was to be executed for crimes against humanity.
His custom-ordered 1941 Mercedes Benz 540K Cabriolet B, which was considered one of the fastest cars in the world at that time, stayed up for grabs.
According to the Times of Israel, records show the car was captured by the U.S. Army in May 1945 at Hitler's villa at Berchtesgaden, then repainted into a U.S. Army car for a colonel in the 7th Infantry.
After it was originally sold as surplus to an army staff sergeant, it was sold a second time to Richard Taylor, an antique car collector from Lumberton, North Carolina. The partially disassembled car has been kept in storage in a North Carolina garage ever since a failed restoration attempt in the 1970s.
Recently, Steven Saffer and David Rathbun of Pompano Beach-based High Velocity Classics, Inc. heard about the car and made an offer. They plan to assemble a team of experts and investors to restore it to show at National Concours Events.
Saffer and Rathrburn told CBS Miami they hope to offer the vehicle to the US Holocaust Memorial Museum in Washington or Yad Vashem in Jerusalem.
"It will absolutely not be sold to anyone who doesn't have the proper sentiment to its history," Rathbun told the South Florida Sun-Sentinel. "It's a unique major piece of history coming back to be seen by the world for what it represents."
In 2012, a man who bought a vintage Mercedes-Benz on Ebay was shocked to discover that it, too, may have been used by someone on Hitler's staff.
"I only see it as a car that there are only so many of in the world," buyer Fred Daibes, a New Jersey real estate developer, told the New York Times. He turned down a $1.5 million offer for sale last year.
See photos of Goering's former car below:
PHOTO GALLERY
Nazi Leader's 1941 Mercedes Benz 540K Cabriolet B
CORRECTION: A previous version of this post incorrectly spelled Goering. It has been corrected.