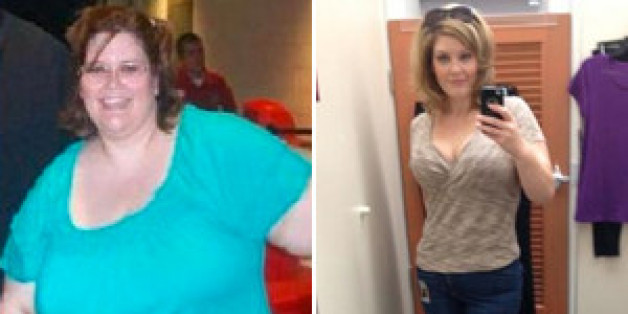 Jacinda Jones had a hard time losing weight. At more than 350 pounds, the 32-year-old insurance claims specialist in Bowling Green, Ky. said she'd tried "just about everything" to slim down and was about to take the drastic measure of gastric bypass surgery. But then she found success in the most unexpected of places: the buttoned-up world of the insurance agency where she works.
Jones began taking advantage of some of the fitness and nutrition coaching provided by her employer, Progressive. In the year and a half since, Jones says she's dropped more than 150 pounds.
"I have done a complete 180," Jones, who's been with Progressive for 11 years, said of her transformation.
Though it may seem odd for workers to enlist their employers in their weight-loss battles, stories like Jones's could soon become the norm. Progressive, which started offering programs to boost its workers' health in earnest in 2011, is among the 50 percent of employers now offering some kind of wellness program, according to a recent survey from the RAND Corporation, a nonprofit research organization.
The insurance giant's offerings -- which include health screenings, an on-site gym at its Cleveland headquarters, in-office yoga classes, lactation rooms for nursing mothers and an herb garden -- are more extensive than most.
But as President Barack Obama's health care reform law goes into full effect next year, the number of employers targeting employee health is likely to grow; Obamacare offers employers that provide wellness programs more leeway to boost health insurance premiums on workers who don't meet certain health metrics.
Companies are now so eager to help their workers lose weight that Weight Watchers is zeroing in on employers as it seeks to boost its struggling business.
Another factor that could push employers to offer Progressive-style health programs: rising health care costs. Christy Palfy, Progressive's recruiting manager, said the company doesn't know exactly how much it's saved thanks to its wellness offerings, but the growing cost of health care is "one of the reasons why we have made a conscious effort," to address worker health. A different spokesperson for Progressive declined to share how much the company spends on health insurance for its workers.
Unhealthy workers can cost businesses in a variety of ways, such as boosting the cost of health care coverage for their employers. Absenteeism due to illness and sick workers' lost productivity cost employers more than half a trillion dollars last year.
Palfy said Progressive's programs are "a way of investing in our biggest asset," and help the company recruit and retain top talent.
Progressive may not be seeing a financial return on its investment in its 25,000 employees yet, but it's likely to pay off in the future, according to Kristin Van Busum, a health project associate at RAND. Van Busum worked on a study that found workplace wellness programs offer no immediate financial benefit for employers, but if they're successful, she said, workers will get healthier and be less likely to develop chronic conditions, saving employers big bucks in health care costs down the line. And, she noted, the programs are successful in other ways.
"These are working, they're making people open their eyes," Van Busum said. "It improves people's health-related behaviors," like cutting down on smoking and increasing exercise.
That was definitely the case for Jones, who says constant email communication with a nutritionist provided by Progressive converted her diet from hamburgers, fries and Kentucky's famous sweet teas to one made up of mostly lean proteins and fruits and vegetables. A former takeout maven, Jones says she now won't go to a restaurant unless she knows the offerings' calorie counts in advance.
She's also transformed her workout routine, using a trainer and a gym membership paid for by the company to exercise five times a week. While it was tough at first, Jones said the rigorous program she crafted was likely the difference between success and failure.
"[Without the help] I would have done like I did before and I would have puttered out, to be honest," she said. "That's a big motivator when you know that other people are watching you."
BEFORE YOU GO
PHOTO GALLERY
The 13 Most Popular Companies To Work For