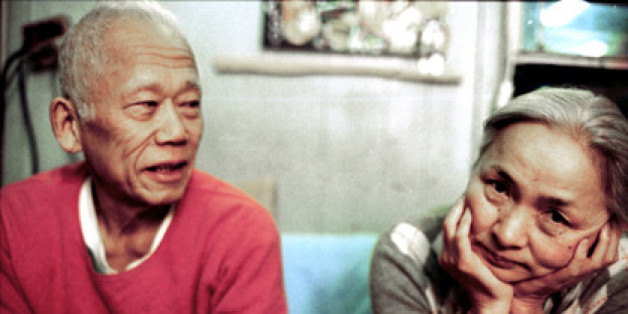 Every so often a movie comes along that it seems no one, not even the most hardened critic, can utter a less than glowing word about. We're going to throw caution to the wind and proclaim that movie for this Oscar season to be "Cutie And The Boxer."
The documentary about a Japanese couple negotiating romance and resentments as professional artists in their cave-like Manhattan apartment hits select theaters Friday. Aside from establishing first-time director Zachary Heinzerling as a rising star (an ascent that began with his Best Director win at this year's Sundance Festival), the doc also raises up an artist who normally gets passed over: Noriko Shinohara, the wryly funny, long-suffering wife to her drunken, dazzling husband, Ushio. Like documentarians before him, Heinzerling showed up to the first shoot expecting to film mostly the eminently filmable Ushio. But "Noriko was standing there and criticizing him and correcting him and picking his paint, and making not so subtle points about her work," Heinzerling told HuffPost in a phone interview.
For "four or five hours," Ushio punched out one of his famous "action paintings," made by dipping boxing gloves in paint and skipping down a long length of canvas, while Noriko hinted that Heinzerling film her stuff instead: memoirish cartoons about a girl named Cutie. "I immediately knew there was this whole other story to look into," Heinzerling said.
HuffPost talked to Noriko about what it's like to finally be noticed:
Zach Heinzerling didn't tiptoe around your lives -- you're shown in the bathroom, as well as having what could be called a very personal conversation with your son about his drinking habits. Is it odd to be on display? Art work comes from inside of the artist, so to show how I eat, and how I sleep, it's insight. If the artist makes work and nobody looks at it, the artist is not happy, even if the artist pretends he likes solitude -- to stay in the mountain or countryside. As an artist...it's exhibitionist. Since I'm not a famous artist, I have no choice. I have to look for the chance.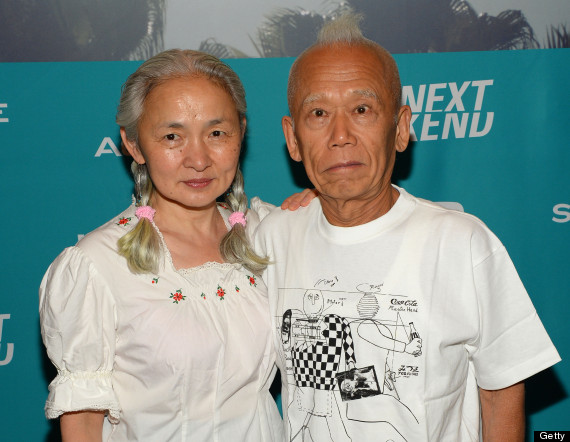 There's no romanticizing of the artist's life in this film. You struggle with bills, and in one scene, a representative from the Guggenheim Museum seems to want to acquire Ushio's work for as little money as possible. Do you ever wish you weren't an artist? Near the end of the film, I said if I had to choose to do it again, I'd do it. But I would do it more strategically or more creatively, knowing what I know as a grown up woman.
What do you mean by that? Ushio was an old type of Japanese man. Even though he doesn't know where he's going, he wants to be the leader, the samurai. But his leadership was so bad. It took a long time before I changed, [before] I didn't listen to him, how he did [things], and I found myself my own way. So if I do it again, from the beginning I'd be more doubtful of what he said. I was too innocent. That was my mistake.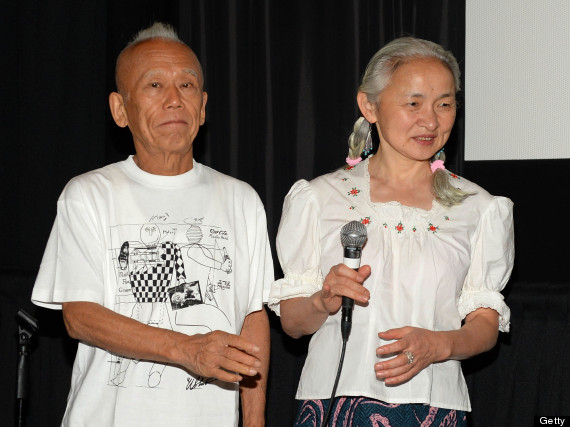 You wear your hair in double braids, as does Cutie. It's a distinctive look, and it almost seems to define the dynamic set between you and Ushio when you met: you, a 19-year-old naif, and he, a 41-year-old man. When did you start the habit? It was 2002. The Japanese [government] brought me and Ushio to Cusco [Peru] for a freedom festival. We stayed nearly three weeks for filming. There I saw all the Incan females had their hair in braids. After I came back, a few months later I put my hair in braids and went outside to buy milk. At that time, a tall young guy approached me and said, "Hi Cutie."
I was 49 years old, so I was surprised. I thought this won't happen to women 49 years old. [After that] I asked my friends to call me Cutie. I decided I won't age more than 17 years.
So you became the same as the girl in your cartoons. It took three and half years [after Peru] for me to start making the cartoons. But my relationship with Ushio was the beginning of Cutie. Only, in my story, Ushio's name is Bullie, because Ushio means bull.
He has the spirit of a bull too, we see in the film. To echo the question above about your career, would you manage your romantic life differently given a second chance? Of course, I always [have] regrets: I should have married a more, you know, controllable and reasonable and more rich, or at least normal income, guy. But my life has been changed because of Ushio. I found my Cutie story. It's my best work.
BEFORE YOU GO
PHOTO GALLERY
Summer Movie Preview 2013