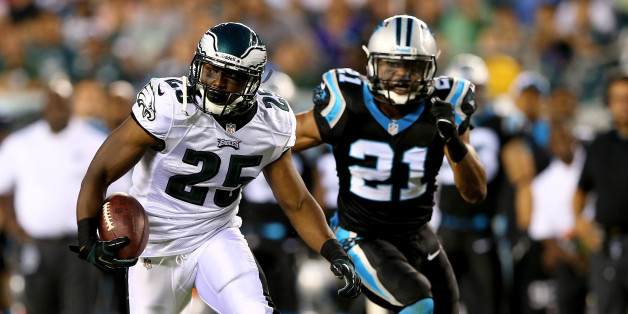 With all apologies to Cat Stevens, the first cut isn't necessarily the deepest, especially when LeSean McCoy is involved. Making it quite clear why his Twitter handle is @CutOnDime25, the Philadelphia Eagles' running back made the Carolina Panthers' defense look silly with a series of moves during a 21-yard run on Thursday.
After taking a handoff from quarterback Nick Foles, McCoy ran left, juked the first Panthers players that got close and then cut his run back across the field to make sure that no defender was left out of the fun. While Panthers cornerback Drayton Florence and linebacker Thomas Davis were perhaps the most exposed by McCoy's first two cuts, they weren't the only players left reeling and reaching in his wake.
(GIF via @8bitSports)
Foles would open the scoring a 7-yard touchdown run on the next play. McCoy finished with 47 rushing yards and one touchdown on eight carries.
BEFORE YOU GO