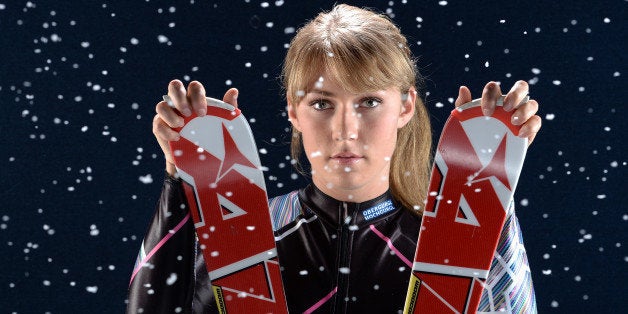 Mikaela Shiffrin shreds a mountain on skis in a way that makes it hard to believe she is still just 18 years old. In March, Shiffrin became the first non-European to win four World Cup slalom races in a season. She also recently graduated high school.
Given a rigorous travel schedule unlike many other teenagers, Shiffrin -- who calls watching "Glee" her "sanctuary" -- has had to redefine just what exactly is normal for her. "What is the definition of a 'normal' teenager?" she said in an interview. "I have never limited myself by focusing much on being a 'normal' teenager. I don't really have time or interest in doing a lot of the crazy things that some of my teenage peers do, mostly because I have such a hectic life that I don't need to add to that chaos by creating my own teenage drama like a lot of teenagers do."
For this Vail, Colo., native -- who practically grew up on the hill -- downhill racing was an instant love. Now, at 18 years old, she is the youngest World Cup slalom season champion since 1974, and may even surpass Lindsey Vonn as America's most well-known ski star. And getting to that level hasn't only meant training -- it's meant putting a priority on downtime, too. Shiffrin has even begun studying German because "it's one of the top languages spoken in skiing," she says.
Of course, the marquee circled event on Shiffrin's calendar remains the 2014 Sochi Winter Games -- her first Olympics, where she will look to set more records. As Shiffrin prepares, she says, she draws inspiration from two athletes in particular -- LeBron James and Serena Williams, who also garnered notoriety as teenagers. This summer, her grueling schedule includes "dry-land training" to improve her agility and overall strength. She will run and lift weights, and do just about anything to improve. "It is impossible right now for me to maintain a regular schedule, so I don't try to," Shiffrin tells HuffPost. (AP Photo/Charles Krupa)
"It is impossible right now for me to maintain a regular schedule, so I don't try to," Shiffrin says. "I just have tried to adapt to the constant changes that happen all the time in my schedule and try and find any sort of mini-predictability and balance within my very unpredictable life."
Shiffrin is aware that her dedication has required her to make sacrifices in other areas of her life. She was home-schooled, never went to prom, and was training on the slopes while her friends went on summer vacations.
"I gave up many hours of free time over the summer to schoolwork and had abbreviated vacations compared to kids my age," she says. "And it wasn't always easy saying no to invitations, but still, I prefer to be where I am at the moment. I know exactly what the priorities are for most teenagers my age, and they are very different from my priorities. Instead I have always just focused on being true to myself."
Despite the sacrifices, Shiffrin loves what she does.
"If I'm ever feeling like I'm complacent," she says, "then I'll know it's time to be done. I like it when hard work pays off. I don't think I do have a 'normal' teenage life, I just have the life that this World Cup ski racing career has dictated at the moment, and I wouldn't trade it for anything."
Email me at jordan.schultz@huffingtonpost.com or ask me questions about anything sports-related at @Schultz_Report. Also, be sure and catch my NBC Sports Radio show, Kup and Schultz, which airs Sunday mornings from 9-12 ET, right here.