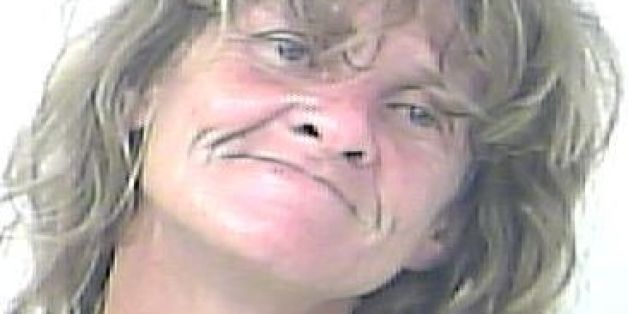 Thanks for the mammaries . . . but no thanks.
Ronda Beckman was arrested in Florida after allegedly taking off her shirt at a bar, exposing her breasts and howling, "It's titty time!"
Beckman bared all at Captain Jax Sandbar and Grill in Fort Pierce on Aug. 2 and refused to put her clothes back on, prompting a call to police, according to TC Palm.
A bar manager told the site that Beckman was on the dance floor when police arrived. She's accused of calling an officer "a piece of sh-t and an asshole." She was charged with indecent exposure, lewd lascivious behavior and disorderly intoxication.
The bare-breasted ballyhoo didn't stop there.
In the back of a patrol car, according to an arrest affidavit, Beckman was kicking and screaming. She's quoted by police as saying, again, "It's titty time, I'll take everything off. I am getting arrested for indecent exposure! I'll give you something to look at baby! I'll take everything off! Oh yes baby I'll take it all off OK."
Beckman, who's listed as homeless, also allegedly called the cop a "f--king whore," Barstool Sports reports.
BEFORE YOU GO
PHOTO GALLERY
Too Much To Drink?