 In July, the United Nations said Syria's civil war has led to the worst refugee crisis since 1994, when Rwanda was gutted by genocide.
Almost 2 million Syrians have already fled their war-torn country since the start of the civil war in 2011. This year, an average of 6,000 Syrians a day have left the country in search of shelter.
"It's brutal," Daryl Grisgraber, a senior advocate at Refugees International, told Fox News last month of the refugees' living situation. "It doesn't appear that there are people starving to death, but they have just about every other problem you can imagine." 
Other than overcrowding, refugee camps in the neighboring countries of Lebanon, Iraq, Jordan and Turkey have reportedly had problems with water and sanitation. Violence -- including rape and sexual abuse -- has also been reported.
To give a sense of just how dire the Syrian refugee crisis has become, humanitarian group Mercy Corps released an infographic this week to illustrate the magnitude of the problem: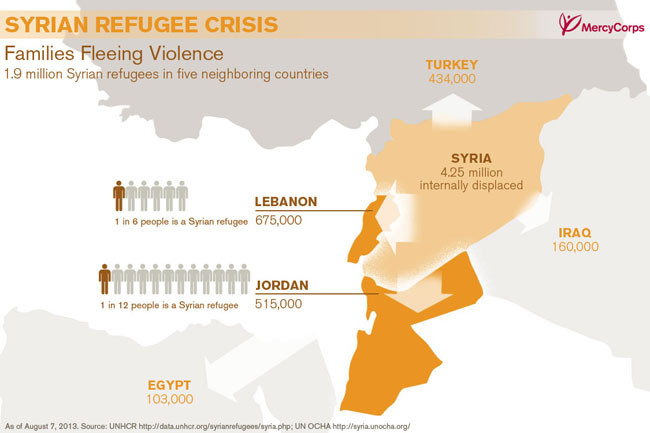 "Syria's civil war is poised to become the worst humanitarian disaster of our time," wrote Mercy Corps' CEO Neal Keny-Guyer in a news release. "The politics are complex and the numbers can be overwhelming. But those numbers stand for real people in crisis, right now."
As the war in Syria -- which has already caused the deaths of almost 100,000 people -- drags on, the refugee crisis is anticipated to only worsen. The U.N. estimates that there could be 3.5 million Syrian refugees by the end of 2013. Mercy Corps says that more than half of these refugees will be children.
For more information and to learn about how you can help, visit the Mercy Corps website.
BEFORE YOU GO
PHOTO GALLERY
Syria War In July (WARNING: GRAPHIC IMAGES)