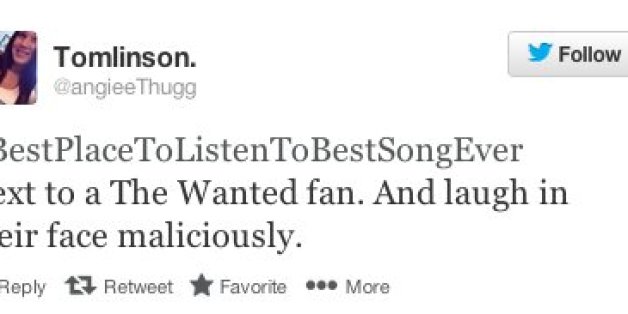 "The Trending 20" is a regular series where we round up interesting, informative and hilarious tweets from worldwide Twitter trending topics, fueled by young tweeters on the interwebs. Have one to submit? Give us a shout @HuffPostTeen.
With just a few days left until the much-anticipated 3D movie, "This Is Us" debuts, it's no surprise that Directioners are in full-on 1D mode. They even managed to get #TheBestPlaceToListenToBestSongEver trending today on Twitter, where fans listed their favorite places to listen to the end-of-summer anthem.
Though it's difficult to pick just one location, from the beach to the bathroom, we think it's safe to say that the best place to jam out to "Best Song Ever" is pretty much anywhere.
Click through the slideshow below for 20 of the best places to listen to 1D's "Best Song Ever." Share your own additions the comments or tweet @HuffPostTeen!